Treasury Secretary Mnuchin flattered to be considered a Bond villain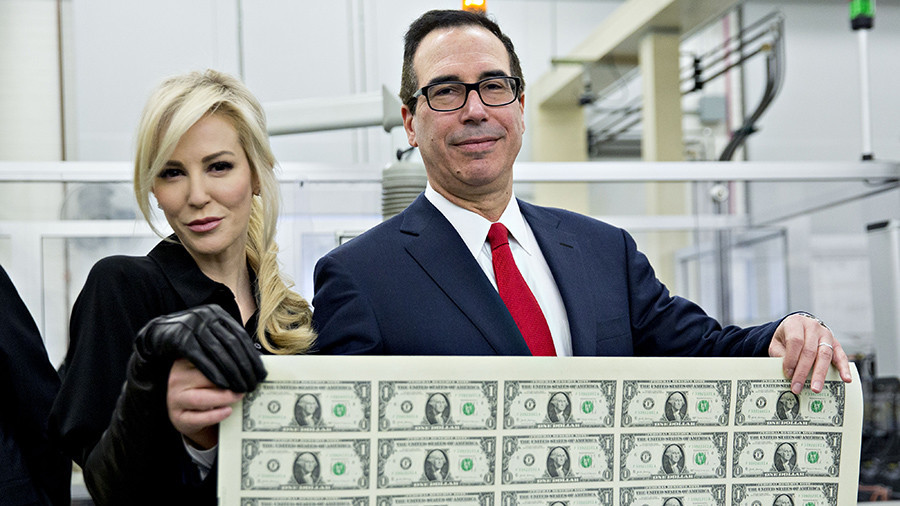 US Treasury Secretary Steven Mnuchin said he takes it as a compliment that he and his wife were compared to villains from a James Bond movie after they went viral for posing with freshly printed dollar bills earlier this week.
Mnuchin, a former Goldman Sachs banker, told Fox News he had no idea that a photograph of him and his wife, Louise Linton, posing with the money, which are the first banknotes bearing the treasury secretary's signature, would go viral.
"I never thought I'd be quoted as looking like villains from the 'James Bond' [movies]. I guess I should take that as a compliment that I look like a villain in a great, successful 'James Bond' movie," he said.
A photo of the couple from Wednesday's photoshoot quickly became an internet sensation. The picture shows Linton clasping the bills while wearing a black leather glove and smirking at the camera while Mnuchin smiles.
Asked on Sunday why he posed for the photo, Mnuchin said he didn't realize the photos would enter the public domain.
"I didn't realize that the pictures were public and going on the internet and viral," he told Fox News host Chris Wallace.
"But people have the right to do that. People can express what they want. That's the great thing about social media today. People can say and communicate what they want."
The couple previously drew public ire when ABC reported that Mnuchin asked for a government jet for his honeymoon.
Linton was also accused of being out of touch and nasty when she responded to an Instagram commenter who criticized her promotion of luxury clothing brands.