Treasury secretary's wife blasted for boasting of wealth on Instagram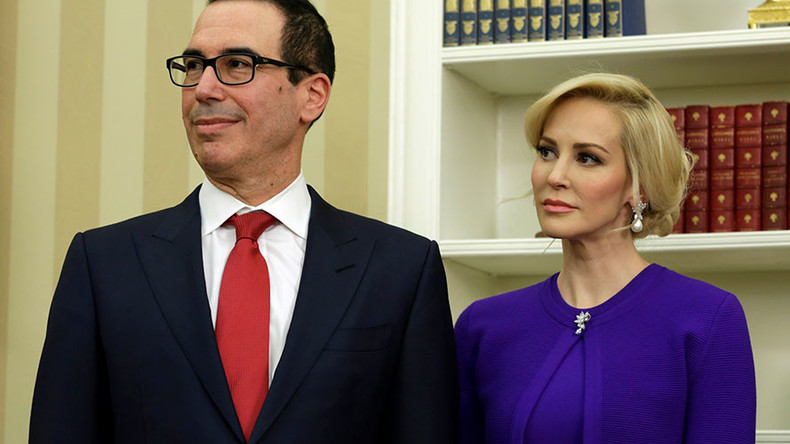 Louise Linton, wife of Treasury Secretary Steve Mnuchin, is facing accusations of being out of touch, condescending and nasty on Instagram when she returned fire to a commenter who criticized her promotion of luxury clothing brands.
Linton posted a photograph to Instagram on Monday showing her getting off of a government jet from Kentucky. Linton tagged a number of designer brands in her image, including Hermes, Tom Ford and Valentino.
Jenni Miller, a mother from Oregon, commented under the post: "Glad we could pay for your little getaway. #deplorable."
Linton fired back with a long response.
"Aw!!! Did you think this was a personal trip?! Adorable! Do you think the US govt paid for our honeymoon or personal travel?! Lololol," she wrote.
"Have you given more to the economy than me and my husband? Either as an individual earner in taxes OR in self sacrifice to your country?" she asked. "I'm pretty sure we paid more taxes toward our day 'trip' than you did. Pretty sure the amount we sacrifice per year is a lot more than you'd be willing to sacrifice if the choice was yours."
"You're adorably out of touch," Linton continued, adding, "Your life looks cute. Go chill out and watch the new Game of Thrones. It's fab!"
"If she hadn't made her account private, I would have written back with a very snide Marie Antoinette joke," Miller told the New York Times. "I think my post was just five or six words, and she had to go on basically a rant about it to make herself look more important and look smarter, better, richer — all those things,"
Miller said she was didn't understand Linton's decision to tag designer labels in her post, especially as she was visiting a state with high poverty.
A Treasury official confirmed the Mnuchins paid the government for the trip and that Linton had not been paid by any of the labels she tagged. However, tagging brands is a tactic employed by bloggers and social media influencers to draw attention to their accounts, in the hope of receiving a repost or sponsored goods from brands.
Mnuchin is a former Goldman Sachs executive, whose appointment as treasury secretary was seen as an unusual one given Trump's promises to drain the swamp, as well as his attacks on Hillary Clinton for her own Wall Street ties during the 2016 election.
Before marrying Mnuchin, Linton was ridiculed online for her self-published memoir, "In Congo's Shadow: One girl's perilous journey to the heart of Africa." The greatly exaggerated book was rife with inaccuracies and contained examples of Linton describing herself as having "long angel hair" and being "skinny white."
The Zambian Embassy in the US released a statement condemning the book, the Telegraph issued an apology for publishing an extract, and #LintonLies trended on social media.