'Wrong shooting, dude': Twitter abuzz after Trump mixes California & Texas rampages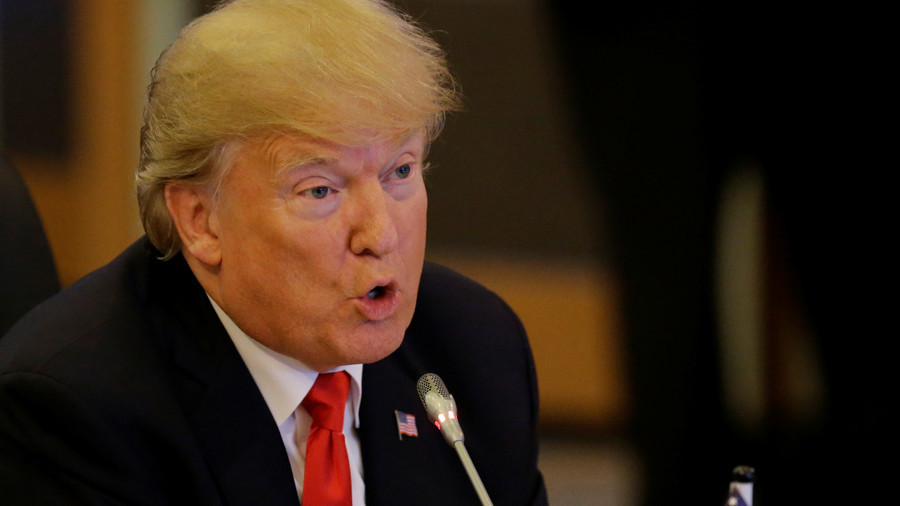 The US president's Twitter feed has been plagued by several stunning mishaps, but his confusing the recent California shooting with last week's shooting in Sutherland Springs, Texas, has raised questions if Trump's team just copy/paste prepared draft tweets.
In one of his latest tweets on Tuesday, Donald Trump offered what he thought was emotional comment on the latest shooting spree at Northern California's Rancho Tehama, which left four people dead and many more injured. Somehow, it referred to another location instead.
"May God be with the people of Sutherland Springs, Texas. The FBI and Law Enforcement has arrived," the tweet said.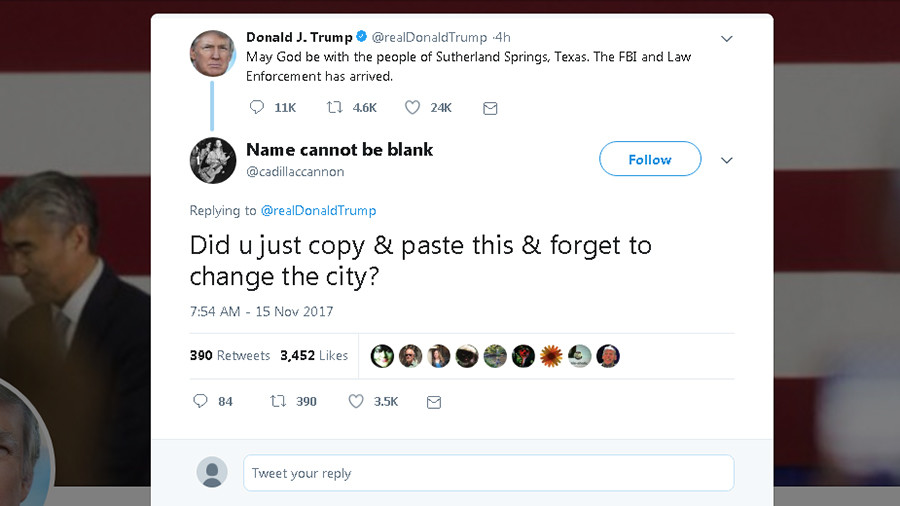 Trump's Tuesday tweet was suspiciously similar to what he wrote on November 5, when a 26-year-old gunman opened fire at the First Baptist Church in Sutherland Springs, killing 26 people and injuring 20.
"May God be with the people of Sutherland Springs, Texas. The FBI & law enforcement are on the scene," Trump said at the time while on his Asian tour, claiming that he was "monitoring the situation from Japan."
Trump has since deleted the tweet with no explanation, but not before it was shared and saved thousands of times. Twitter users reacted swiftly with both sarcasm and frustration. Some mocked the president's error, while others speculated on the scale of rising gun violence in America's cities.
READ MORE: Trump tweet mystery: President's #Covfefe message triggers troll tsunami
"Wrong mass shooting, dude," wrote a user named Lee Pacchia.
"Do you just have these tweets drafted to publish and forgot to change it from the mass shooting that happened last week?" one user tweeted.
Others wondered if the shootings are "happening too often in this country that you are just copy and pasting tweets to save time."
Previous developments have shown Trump's online team may be social media-challenged. In January, Sean Spicer, then-White House press secretary, tweeted his email passcodes, triggering a Twitterlanche.
Trump's own Twitter account has also proved to be prone to mess-ups. Earlier in November, it emerged the president's account had been deactivated by an outgoing employee of the microblogging service before in was brought back online after about 10 minutes.