Bad Twitter day: Spicer tweets 'his password,' Trump caught using Gmail for POTUS handle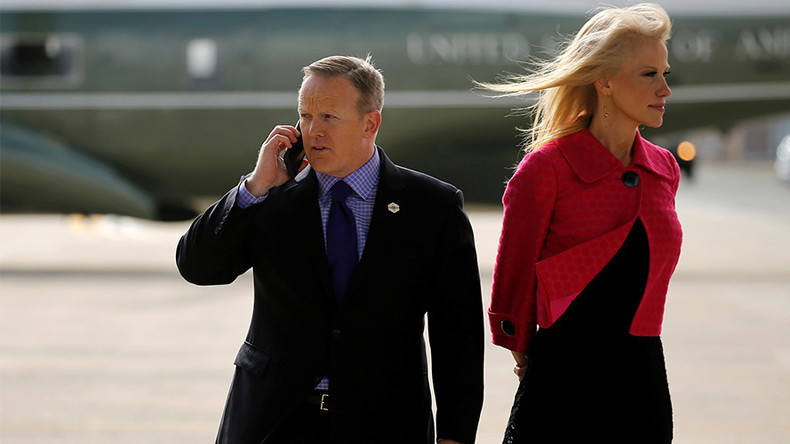 President Donald Trump and his press secretary, Sean Spicer, came under fire over Twitter after it was revealed the new administration was using Gmail for official accounts. Spicer was also trolled online after seemingly tweeting his pass codes, twice.
Donald Trump was busted by security-savvy users, who uncovered that his POTUS handle was linked to an ordinary Gmail account with no two-step verification. As anyone can view part of the email used in the default Twitter password recovery menu, several screenshots were shared Thursday alleging the email linked to POTUS was ds******************@gmail.com.
After the news had spread across social media, the email addresses associated with the president, vice president and first lady had all been changed from Gmail to the secure White House email addresses.
Earlier this week, CNN reported it had gotten in touch with Trump's head of social media, Dan Scanvino, after it had been warned by a hacker known as WauchulaGhost that Twitter handles connected to the new administration had security vulnerabilities due to a lack of two-step verification.
In a separate blunder, Spicer found himself at the center of a Twitterstorm after he sent a series of jumbled tweets.
This gaffe was particularly poorly timed given the White House's agenda for the day, as outlined on Wednesday by President Trump on Twitter.
Tongue-in-cheek speculation online has been rife with theories ranging from a simple internet faux pas (accidentally tweeting your password) to something potentially apocalyptic, such as accidentally tweeting the country's nuclear launch codes.
Others online were quick to point out that this is the second time in two days that Spicer has tweeted such cryptic messages.
This led one netizen to claim Spicer's mysterious tweets are in fact a cry for help.
You can share this story on social media: