Trump's all fingers & thumbs: US leader confused by ASEAN group handshake aimed at showing unity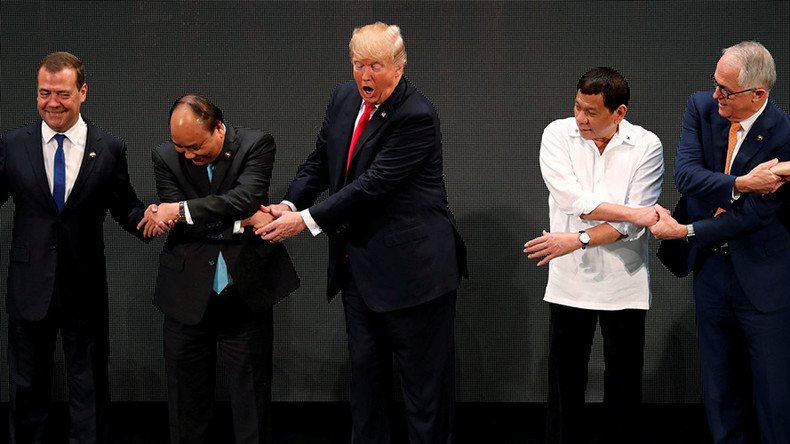 Donald Trump's latest handshake with ASEAN leaders has been added to the list of his oddities. This time, the US president got confused and failed to grasp whose hands he was supposed to be holding, thus breaking the symbolic line intended to show unity.
Trump was in Manila for the opening ceremony of the Association for Southeast Asian Nations conference (ASEAN). His struggle started when the world leaders and top officials joined a traditional 'ASEAN handshake' for a group photo. Trump was supposed to cross arms and join hands with the men on either side of him, but this didn't go smoothly for the US president.
While others clutched the hands of those to their left and right, Trump used both of his hands to clasp the fingers of Vietnamese Prime Minister Nguyen Xuan Phuc, standing to his right. On Trump's other side, Philippine President Rodrigo Duterte was left standing with a spare hand.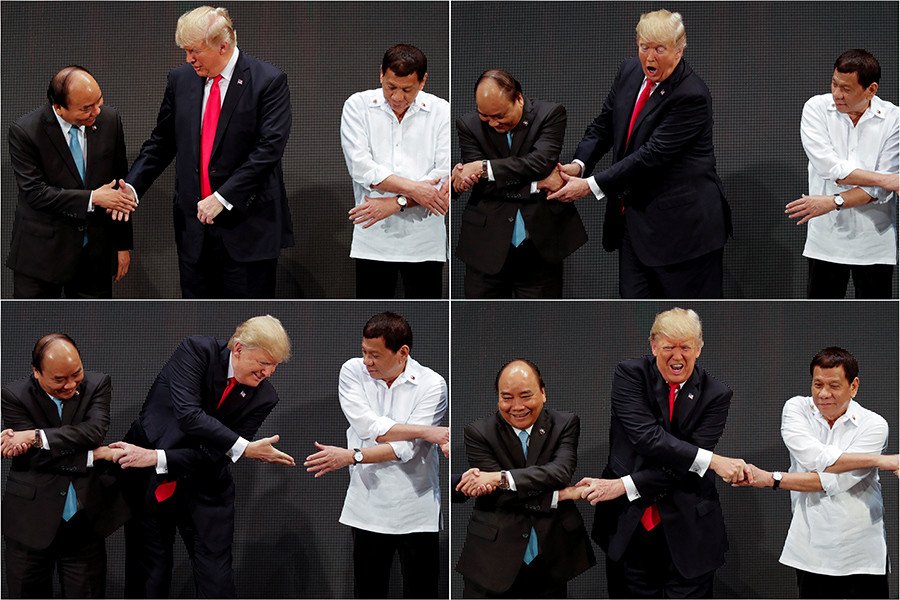 Finally, the US president realised that he had broken the link aimed at showing unity between ASEAN members. Laughing and grimacing, he crossed his arms and reached to the correct sides.
The traditional ASEAN cross handshake was also apparently too complicated for Russian Prime Minister Dmitry Medvedev, but he chose not to break the 'unity' chain and shook hands the traditional way.
READ MORE: 6 of Trump's most cringeworthy handshakes… so far (VIDEOS)
Trump's handshakes have become a sort of trademark in recent months. Trump held on to the hand of French President Emmanuel Macron for a staggering 28 seconds during their meeting in Paris last July. In February, Japan's Prime Minister Shinzo Abe was visibly relieved when the US leader finally released his hand after another intense grip in front of the cameras.
You can share this story on social media: