Trump says Saudi elites caught in anti-corruption probe were 'milking' kingdom for years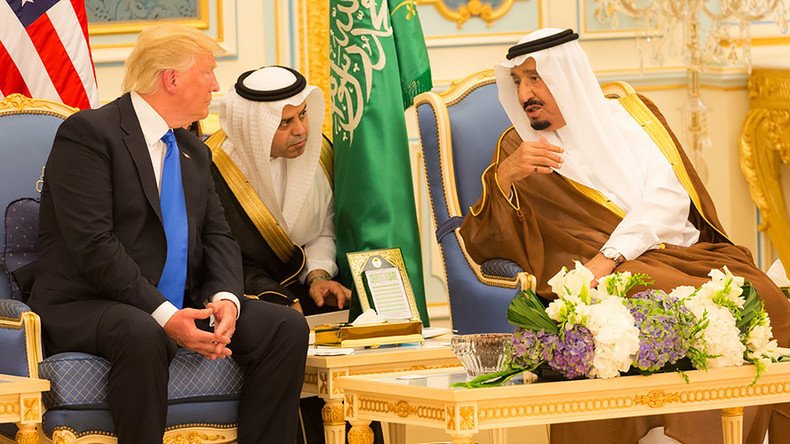 The US president has backed Saudi Arabia's corruption purge initiated by Crown Prince Mohammad bin Salman against influential princes, military and business elites. The Pentagon praised Riyadh for exposing "Iran's destabilizing influence" in the region.
At least 11 Saudi princes, four ministers and dozens of prominent business figures were among those taken into custody over the weekend as part of the corruption probe by Riyadh that is being led by the crown prince. On Monday, Donald Trump voiced his support for the ongoing corruption investigation.
"I have great confidence in King Salman and the Crown Prince of Saudi Arabia, they know exactly what they are doing," Trump said on Twitter. "Some of those they are harshly treating have been 'milking' their country for years!"
The support voiced for the Saudis' anti-corruption initiative follows a phone conversation Trump had with King Salman on Sunday, where the leaders discussed the "continuing threat of Iranian-backed Houthi militias in Yemen" after Saturday's missile attack on Riyadh airport that was blamed on Iran-backed Houthi militias.
"They emphasized the importance of countering extremist ideologies and championing moderation and tolerance," the White House said in a statement about the leaders' phone conversation.

Saudi Arabia accused Iran of being responsible for the ballistic missile attack, warning that it could be "considered an act of war." As part of its retaliatory measures, the Saudi-led coalition announced it would close all air, land and sea routes in and out of Yemen to prevent arms smuggling. The Pentagon praised Riyadh on Monday for "exposing" Iran's role in Yemen, promising to "neutralize" Tehran's influence in the region.
"We continue to maintain strong defense ties with the Kingdom of Saudi Arabia and work together on common security priorities to include combat operations against violent extremist organizations, and neutralizing Iran's destabilizing influence in the Middle East region," Pentagon spokesman Marine Major Adrian Rankine-Galloway was quoted as saying by Reuters.
Iranian Foreign Ministry spokesman Bahram Qassemi denied Tehran's responsibility for the attack against the Saudis, calling the allegations "baseless, irresponsible, damaging and provocative."
"The Saudis, who have failed to achieve their evil goals during long-term military aggression against Yemen, are making more problems for their defeated coalition with a clumsy psychological operation to make baseless and totally false accusations," Qassemi said in a statement Monday statement.
Qassemi's statement echoed the words of Iranian Foreign Minister Javad Zarif, who in a series of English-language Tweets accused Saudi Arabia of conducting "wars of aggression, regional bullying, destabilizing behavior."
Saudi Arabia, Zarif tweeted, "bombs Yemen to smithereens, killing 1,000's of innocents including babies, spreads cholera and famine, but of course, blames Iran." He also brushed aside Riyadh's accusations that Tehran is backing the Lebanese Hezbollah's "aggression" against the Gulf kingdom.
At the same time, Zarif noted that Trump's first overseas trip as president to "belligerent" Saudi Arabia in May "have proved hazardous to regional health," reminding that the regional tour was followed by the "Qatar debacle" and "repressions" in Bahrain.
During his visit to the Saudi capital in late May, Trump delivered a speech in which he called upon Gulf and Middle Eastern nations to step up their efforts aimed at tackling the "crisis of Islamic extremism." Several weeks later Saudi Arabia, Egypt, the United Arab Emirates and Bahrain severed ties with Qatar on Monday, accusing it of supporting and financing terrorism, namely al-Qaeda and Islamic State (IS, formerly ISIS/ISIL). Also within days of Trump's visit to the region, neighboring Bahrain, which is home to the US Fifth Fleet, initiated a massive crackdown on domestic opposition.
READ MORE: Trump strikes arms deal with Saudis worth $350bn, $110bn to take effect immediately
Donald Trump's visit to the Gulf region resulted in major military contracts for the US arms producers. An arms deal with Riyadh worth $350 billion over 10 years was signed to bolster the Saudi security "in the face of Iranian threats." Tanks, artillery, helicopters, light close air support, intelligence-gathering aircraft, and systems such as Patriot and THAAD are just a few among a large list of weapons and machinery that Riyadh managed to secure during Trump's visit to the country. Human rights groups have slammed the deal, expressing concerns that sending the weaponry to Saudi Arabia will only worsen hostilities in Yemen.
READ MORE: Middle East trip 'already paying off' – Trump on Qatar-Arab League rift
"President Trump thanked the King for military purchases, including a $15 billion investment in Terminal High-Altitude Area Defense (THAAD) and billions more in commitments and investments. The President assured the King that he would support the purchase of appropriate military equipment that would keep Saudi Arabia safe and help create American jobs," the White House said in a statement on Sunday, reaffirming the American commitment to the arms deal.
You can share this story on social media: