Middle East trip 'already paying off' – Trump on Qatar-Arab League rift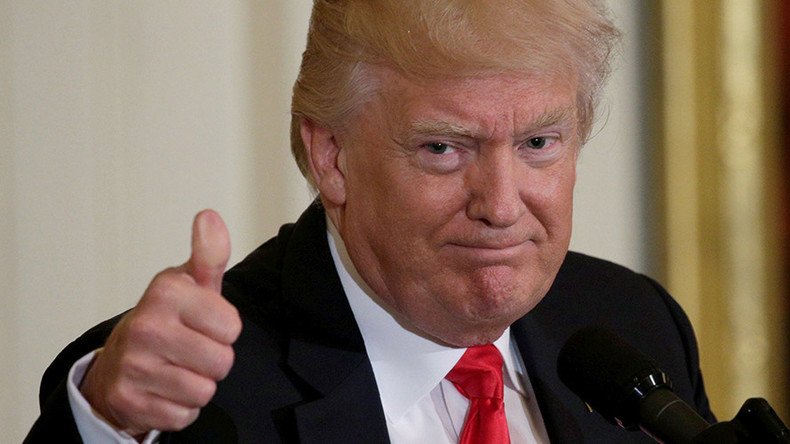 US President Donald Trump has hinted that the spat which saw Saudi Arabia, the UAE and several other Arab League states cut ties with Qatar over alleged funding of terrorist groups was a result of his recent Middle East trip.
"So good to see the Saudi Arabia visit with the King and 50 countries already paying off," Trump tweeted, wading in to the largest crisis in the Arab world in decades.
"They [Arab states] said they would take a hard line on funding extremism, and all reference was pointing to Qatar. Perhaps this will be the beginning of the end to the horror of terrorism!" he added.
In another tweet, the US president said that leaders of unnamed Middle Eastern nations "pointed to Qatar" when he demanded funding of "radical ideology" to be stopped.
During his visit to Saudi capital Riyadh in late May, Trump delivered a speech in which he called upon Gulf and Middle Eastern nations to step up their efforts aimed at tackling the "crisis of Islamic extremism."
"The nations of the Middle East cannot wait for American power to crush this enemy for them. The nations of the Middle East will have to decide what kind of future they want for themselves, for their countries, and for their children," the US leader said at the time.
The diplomatic row in the Gulf broke out on Monday, when five Arab League nations – Bahrain, Saudi Arabia, the United Arab Emirates, Egypt, Yemen – as well as the Maldives and Mauritius announced they were cutting diplomatic ties with Qatar.
They accused the oil-rich nation of supporting terrorism, with Riyadh also saying Doha collaborated with Iran-backed militias.
The Arab sanctions against Doha included shutting down ground, aerial and maritime transport links, with fears of supply shortages already seeing Qataris flocking to the supermarkets, Reuters reported.
Qatar rejected the claims, calling them a "campaign of incitement" which is "based on lies."
Doha then addressed Kuwait for mediation in the crisis, with Kuwaiti Emir, Sheikh Sabah Al-Ahmad Al-Jaber Al-Sabah, traveling to Saudi Arabia on Tuesday for talks on the issue.
READ MORE: Qatar seeks Kuwaiti mediation after major Arab League states cut ties
Qatar's Emir Sheikh Tamim bin Hamad Al-Thani has already postponed an address to his country and opted to "exercise restraint" after Kuwait warned that harsh remarks could hamper a settlement.
Saudi Foreign Minister Adel al-Jubeir told journalists in Paris on Tuesday that Qatar needed to take several steps, including cutting support for the Palestinian organization Hamas and the Muslim Brotherhood in Egypt, in order to restore ties with key Arab League players.
"We've decided to take steps to make clear that enough is enough. Nobody wants to hurt Qatar. Qatar has to choose whether it must move in one direction or another direction," al-Jubeir said, as cited by Reuters.
You can share this story on social media: