Florida State University suspends fraternities after death of student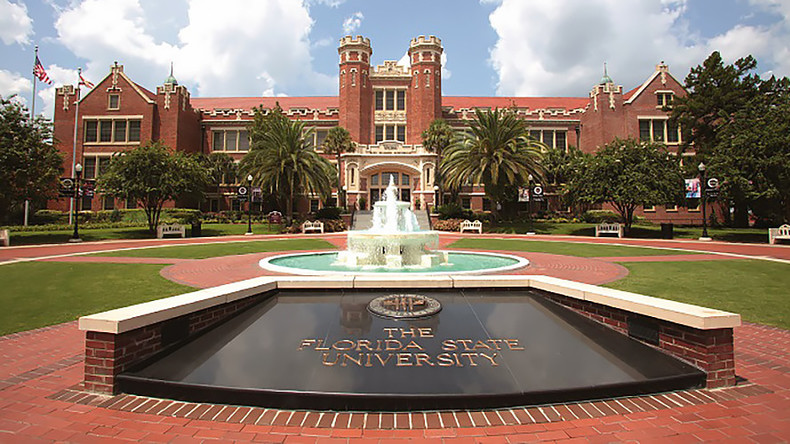 The president of Florida State University (FSU) has declared an indefinite suspension of all fraternities and sororities as police investigate the party death of a student pledging for membership.
The Tallahassee, Florida police said no one has been arrested in connection with the death of Andrew Coffey at an off-campus house party on Friday. The 20-year-old student, a pledge at Pi Kappa Phi and a civil engineering major from Pompano Beach, Florida, was found unresponsive. All attempts to revive him failed.
The fraternity was suspended by its national organization pending the conclusion of the investigation. Police officers were collecting alcoholic beverage bottles scattered on the porch of the home as evidence, AP reported.
In an unrelated incident Monday, 20-year-old Garrett John Marcy, a member of Phi Delta Theta, was charged with the sale and trafficking of cocaine.
Fraternities and sororities named after strings of Greek letters are a national network of single-sex undergraduate social organizations at America's universities. Members usually live on properties owned by the group.Hazing is banned by all national fraternities and sororities.
However, new members may at times be secretly selected to undergo vetting and hazing.
"For this suspension to end, there will need to be a new normal for Greek Life at the university," FSU President John Thrasher said, according to AP. "There must be a new culture, and our students must be full participants in creating it."
Thrasher has also instituted a ban on alcohol at all official student organization events during the suspension. The university has more than 700 such organization outside the fraternity community.
"Like most universities, we worry about alcohol and drug abuse and other dangerous behaviors, and we are doing all we can to educate our students," Thrasher said. "But all of our students organizations ‒ Greek organizations and the other recognized student organizations on campus ‒ must step up. They will have to participate in the solution."
The Greek clubs have come under scrutiny recently due to accusations of sexual assault, property damage and racist scandals.
A University of Michigan fraternity and sorority were punished in 2015 after their members reportedly caused $230,000 damage to a northern Michigan ski resort.
Three fraternities in Cal State Northridge were suspended the same year when a 19-year-old student, Armando Villa, became dehydrated on a mandatory hike while pledging a fraternity the year prior. Two others fraternities were shut down over allegations of hazing and sexual misconduct.
Also in 2015, a Wesleyan University student filed a federal lawsuit against the Psi Upsilon fraternity and its local chapter, alleging she was thrown over a couch in a common room and raped while others watched, after she tried to leave a party in 2013.
Despite the controversy, fraternities and sororities are powerful social institutions in the US. A 2013 report by Bloomberg found that fraternity connections are influential in obtaining lucrative employment positions at top Wall Street brokerages. Forty-three of the nation's 50 largest corporation heads are Greek members, along with 40 of the last 47 Supreme Court justices.
You can share this story on social media: