White House chief of staff under fire over Civil War comments on Fox News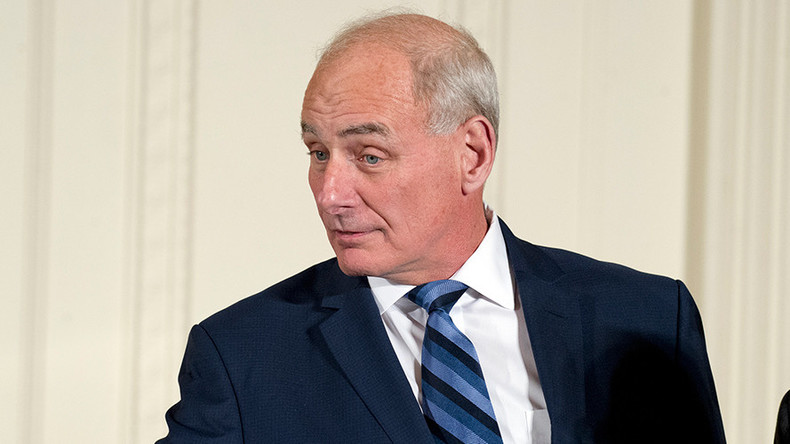 White House Chief of Staff John Kelly is facing an online backlash over comments about the Civil War and monuments he gave in a wide-ranging interview with Fox News' Laura Ingraham.
"I think we make a mistake though as a society and certainly as individuals when we take what is today accepted as right and wrong and go back 100, 200, 300 years or more and say what Christopher Columbus did is wrong, you know, 500 years later," Kelly said on the Monday evening show.
"I would tell you that Robert E. Lee was an honorable man. He was a man that gave up his country to fight for his state, which 150 years ago was more important than country. It was always loyalty to state first back in those days. Now, it's different today. But the lack of an ability to compromise led to the Civil War," the retired Marine general said, commenting on the initiatives to tear down monuments to the Confederate general.
The remarks prompted an angry reaction from prominent liberal commentators and political figures, who compared them to President Donald Trump's comments following the death of a protester in Charlottesville, Virginia in August.
Pressed about Kelly's comments by reporters, White House press secretary Sarah Huckabee Sanders said it was "absurd and disgraceful" to take these comments out of context and claim they were racist or offensive.
"Just because you don't like history doesn't mean you can erase it," Sanders said, noting that Kelly was talking about general terms discussed by American historians from both the North and the South and the political left and right.
While Kelly's comments regarding Lee and the removal of Confederate statues drew much attention, his remarks on foreign relations and the special counsel's investigation into alleged Russian interference in the US presidential election were largely overlooked.
The retired general said China was not an enemy of the US, and called on Beijing to pressure North Korea into abandoning its nuclear weapons program.
"I don't think we can have a country like North Korea have a ICBM that can deliver now a thermonuclear device on the mainland of the United States," he said. "The great hope we all have in, they're already doing this, is the Chinese exert their pressure."
"We have great hope for the Russians as well," he added.
Kelly also commented on the special counsel's indictment of Paul Manafort, unsealed on Monday, accusing the former Trump campaign manager of tax evasion and money laundering connected to his Ukraine lobbying efforts.
"All of the activities as I understand it that they were indicted for were long before they ever met Donald Trump or had any association with the campaign," Kelly said.
The White House chief of staff also suggested a special counsel to investigate Democrats and Hillary Clinton over the controversial uranium deal made during the Obama administration, as well their sponsorship of a dossier alleging a relationship between Trump and Russia.
"I think, probably as a layman looking at this kind of thing, we need to find someone who is very, very objective who can get to the bottom of these accusations," Kelly told Ingraham.