Netflix cancels 'House of Cards' amid allegations Kevin Spacey sexually assaulted 14yo boy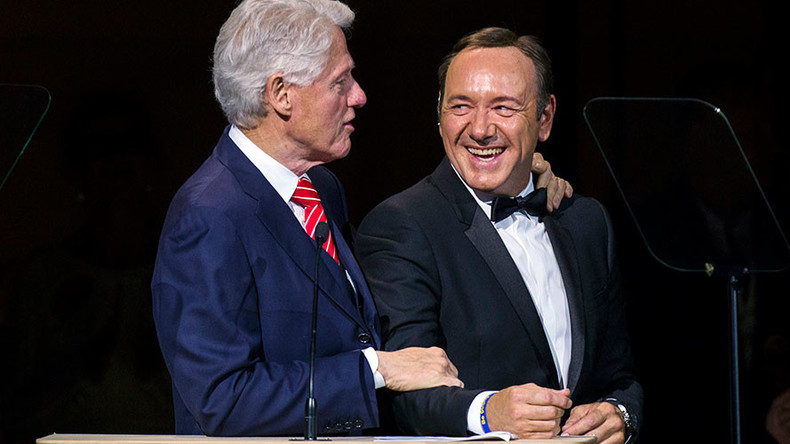 Netflix has pulled House of Cards as lead actor and executive producer Kevin Spacey faces more accusations, beyond that of sexually assaulting a teen over 30 years ago. Compounding the scandal, Spacey's brother is now revealing family secrets.
Netflix announced Monday that they will cancel 'House of Cards' a day after 'Star Trek Discovery' actor Anthony Rapp accused Spacey of sexual assault when he was a teenager.
In an interview with Buzzfeed published Sunday, Rapp said Spacey invited him to a party at his apartment in 1986. At the end of the night, Rapp said Spacey stood in the doorway, blocking his exit.
Rapp recalled Spacey drunkenly picking him up "like a groom picks up the bride over the threshold," and carrying him to a bed before lying on top of him.
"He was trying to seduce me," Rapp told Buzzfeed. "I don't know if I would have used that language. But I was aware that he was trying to get with me sexually."
Rapp was 14 at the time and Spacey, 26.
Rapp told Buzzfeed he was able to "squirm" away and quickly left the apartment, but that the incident has stayed with him.
Over 30 years later, Rapp said he felt compelled to come forward with the allegations after numerous women came out with allegations against Hollywood producer Harvey Weinstein.
to shine a light and hopefully make a difference, as they have done for me. 2/3

— Anthony Rapp (@albinokid) October 30, 2017
In response, Spacey issued an apology on Twitter, saying he was "beyond horrified" to hear Rapp's story, but added that he did not remember the incident.
"If I did behave then as he describes, I owe him the sincerest apology for what would have been deeply inappropriate drunken behavior," Spacey tweeted.
Spacey's two-paragraph apology then pivoted, with the Academy Award-winning actor and honorary knight of the British empire announcing that he had decided to "live as a gay man."
Netflix and Media Rights Capital issued a press release obtained by RT America that said the companies were "deeply troubled" by the accusations. Executives from both studios arrived on set in Baltimore Monday to ensure the cast and crew "continue to feel safe and supported."
They added that Spacey is not working on set at this time. The cast began filming the sixth season of the hit series earlier this month.
The decision to pull the show after the sixth season was made "months ago," well before the news about Spacey surfaced, according to a journalist from the Hollywood Reporter.
Spacey's response sparked outrage on social media, with many accusing him of trying to deflect the allegations of sexual assault by revealing his gay status.
Comedian Wanda Sykes, who came out as gay in 2008, lashed out at Spacey for trying to "hide under the rainbow."
Dan Savage, author of the "Savage Love" column, said there is "no amount of drunk or closeted that excuses or explains away assaulting a 14-year-old child."
Nope to Kevin Spacey's statement. Nope. There's no amount of drunk or closeted that excuses or explains away assaulting a 14-year-old child.

— Dan Savage (@fakedansavage) October 30, 2017
Billy Eichner, host of TruTV's 'Billy on the Street' tweeted that Spacey's decision to 'come out' in his apology was "something that has never existed before: a bad time to come out."
Kevin Spacey has just invented something that has never existed before: a bad time to come out.

— billy eichner (@billyeichner) October 30, 2017
Actor Zachary Quinto, who co-stars with Rapp in 'Star Trek Discovery,' said it was "deeply sad and troubling" that Spacey chose to come out in order to distract from Rapp's accusations.
"Not by standing up as a point of pride – in the light of all his many awards and accomplishments thus inspiring tens of thousands of struggling LGBTQ kids around the world, but as a calculated manipulation to deflect attention from the very serious accusation that he attempted to molest one," Quinto wrote.
Gay and Lesbian Alliance Against Defamation (GLAAD) president and CEO Sarah Kate Ellis chose to criticize news outlets, saying they had missed the real story.
"Coming-out stories should not be used to deflect from allegations of sexual assault. This is not a coming-out story about Kevin Spacey, but a story of survivorship by Anthony Rapp and all those who bravely speak out against unwanted sexual advances. The media and public should not gloss over that."
"I know that there are stories out there about me," reads one of the more cryptic passages in Spacey's statement. He added that "some have been fueled by the fact that I have been so protective of my privacy."
Similar to the case of Harvey Weinstein, many in the entertainment industry are saying there was widespread knowledge of Spacey's behavior, but that these problems were common in the industry.
"I think that many people in the theatre and in the creative industries have been aware of many stories of many people over a lot of years," London theater director Victoria Featherstone told BBC Radio 4 show 'Today.'
"Kevin Spacey would be one of the people that people have had concerns about, yes," she said.
A former local news anchor in Boston, Heather Unruh, has come out accusing Spacey of "completely unexpected, completely inappropriate" sexual advances on an unidentified woman at a well-known restaurant last summer, the Boston Globe reported.
Another woman, Nadine West, tweeted that Spacey "groped my young male friend when they were both working at the Old Vic," a theater in London. West said Spacey was "apparently always known as one to avoid," the Daily Mail reported.
Spacey's own brother, Randall Fowler, told the Daily Mail that their father was a child rapist who ran a "house of horrors." Fowler claims to have been raped by his father, Thomas Geoffrey Fowler, whom he alleges joined the American Nazi Party and trimmed his mustache in the style of Adolf Hitler.
"Neither of us had a chance growing up with two such damaged parents," Fowler said.
Fowler said Spacey "tried to avoid what was going on by wrapping himself in an emotional bubble," and that he was "so determined to try to avoid the whippings that he just minded his Ps and Qs until there was nothing inside."
Fowler thought Spacey may have pursued acting as an escape.
Rumors about Spacey being gay have been circulating for many years. In a 2005 episode of the comedy TV show 'Family Guy,' the family's baby Stewie ran naked through a crowded room yelling, "Help! I've escaped from Kevin Spacey's basement! Help me!"
The show's creator, Seth MacFarlane, also made a joke about Weinstein's sexual escapades, telling a group of women nominated for best supporting actress at the 2013 Academy Awards that they would "no longer have to pretend you're attracted to Harvey Weinstein."
Flight logs show that Spacey, along with former President Bill Clinton, flew on the private jet of former Wall Street mogul and convicted sex offender Jeffrey Epstein from New York to the Azores on the way to Africa in 2008. Epstein's jet has been dubbed the 'Lolita Express.'
You can share this story on social media: