'Shots fired': Audio of Mandalay Bay security guard reporting Las Vegas shooting released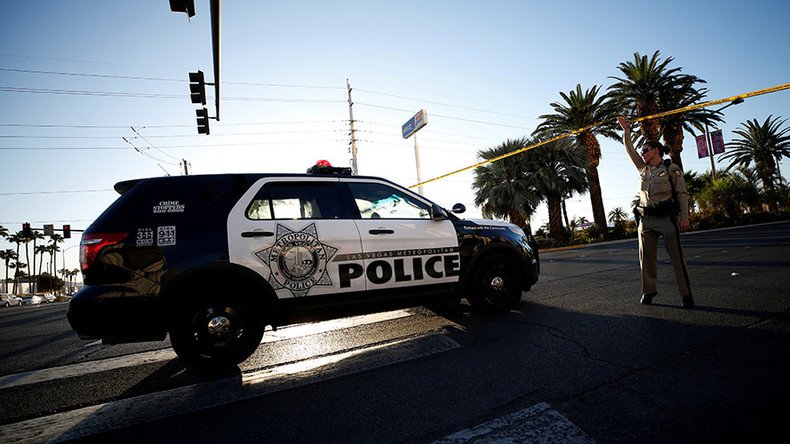 Audio of the dispatch call from a Mandalay Bay security guard capturing the pivotal moment before Stephen Paddock opened fire on thousands of unsuspecting concert-goers in Las Vegas, Nevada, has been released.
The 24-second audio released Friday contains the voice of security guard Jesus Campos, 25, as he reports "shots fired" at Mandalay Bay from the 32nd floor of the hotel-casino.
"Hey, there are shots fired in 32-135," Campos says, according to the audio released by MGM Resorts International.
Campos was referring to the room number where Paddock brought a large cache of weapons, and had been preparing to fire on the crowd watching the Route 91 Harvest Music Festival across the street from the hotel.
When Campos approached Paddock's hotel room, Paddock shot him in the leg. The shooter also had cameras positioned on a cart outside his room and on his door as well. Paddock fired some 200 rounds at the door while Campos was outside. The security guard was struck one time, police said, the Los Angeles Times reported.
Paddock carried out the deadliest mass shooting in modern US history, killing 58 people, and injuring hundreds more.
Since the October 1 massacre, Campos has only spoken about the incident one time, when he talked with Ellen Degeneres on her television show, which aired on October 18.
On the show, he described how he called in the report about shots being fired to hotel security after being shot in the leg. The hotel, and the police, have not yet said when authorities from the hotel notified police of the shooting. Paddock continued to fire his gun for 10 uninterrupted minutes.
At an October 13 news conference, Clark County Sheriff Joe Lombardo noted that an earlier timeline of events released by police, which suggested Paddock shot Campos six minutes before he started firing into the crowd at 9:59pm on October 1, may not have been accurate, according to the AP.
READ MORE: Las Vegas shooter's laptop hard drive missing, brother charged with child porn
Lombardo said that 9:59pm was when the security guard first reported that he had came across a doorway that Paddock blocked off.
The audio clip was not released with a timestamp, and no explanation from MGM was given as to why the clip is just being released now, the LA Times reported.
You can share this story on social media: