Las Vegas hotel security guard left US after massacre - border patrol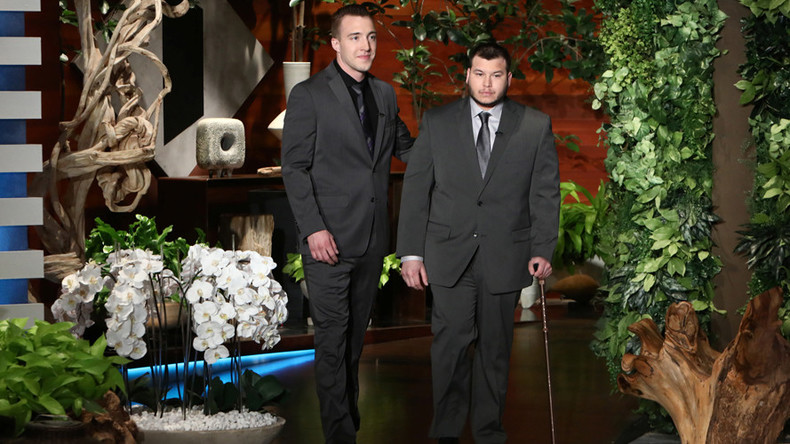 Jesus Campos, the Mandalay Bay security guard who was injured by the Las Vegas gunman, traveled to Mexico after the massacre, according to a Customs and Border Patrol report. His disappearance opens more questions into the already murky mass shooting.
Customs and Border Patrol documents show that the 25-year-old Campos entered the US from Mexico at the San Ysidro border crossing near San Diego, California, one week after the mass shooting, Fox News reported.
The CBP documents show Campos crossed back into the US on October 8, and appeared to be driving a rental car with California plates. There is no record of how long he was out of the country.
The union that represents Campos told Fox that it was aware of his trip to Mexico, adding that it was a previously planned visit.
Campos had been scheduled to do several interviews with major news networks, including Fox, but then canceled them at the last minute and disappeared for days. He resurfaced in a sudden appearance on the Ellen DeGeneres Show for an exclusive interview. DeGeneres is a branding partner of MGM, the owners of Mandalay Bay hotel.
In the interview, Campos gave his recollections of the night, but didn't reveal much new information. DeGeneres didn't press him with questions on the ever-changing timeline.
The CBP disclosures raise more questions as to why authorities would allow a key witness to leave the country while in the middle of an investigation, or how Campos was able to drive hundreds of miles with a gunshot wound to his leg.
On the night of October 1, Stephen Paddock smashed two windows in his hotel suite at the Mandalay Bay hotel and opened fire on a crowd of 20,000 country music fans across the street from his room, according to the Las Vegas authorities. The shooting killed 58 people and injured 500 more.
According to the latest official version of events, Paddock shot at the crowd for 10 minutes. Authorities have yet to determine why he stopped. Paddock reportedly committed suicide before police reached his room. A SWAT team eventually breached his suite 75 minutes after the shooting began and found him dead in a grisly scene, photos of which leaked shortly after the shooting.
The initial timeline of the shooting, which has famously shifted several times, had Paddock fire shots into the hallway, hitting Campos, shortly before he launched his attack at 10:05pm. However, that version of events has been called into question by a New York Times analysis, which found Paddock probably shot Campos one minute after the shooting started. This contradicts the investigators' latest timeline, which said Paddock first shot Campos and then began to shoot into the crowd uninterrupted.
State records obtained by Fox also showed the 25-year-old is not registered as a security guard with Nevada's Private Investigator's Licensing Board. The Clarke County Sheriff's Office declined to comment when asked about what license is required to be a security guard at a Las Vegas casino.
"Jesus Campos is a victim and we don't speak about victims," a sheriff's spokesperson said.
The FBI and the Bureau of Alcohol, Tobacco, Firearms and Explosives (ATF) are assisting local investigators who must determine whether Paddock acted alone, or whether he was aided in the shooting.
"The fact that surprised me is he had very little criminal history," Dana Ridenour, a retired FBI agent who was part of the Evidence Response Team that traveled to New York following the 9/11 attacks, told the Las Vegas Journal Review."There was no clues he was going to go off his rocker and kill 58 people."
The size of the investigation has prompted the US Justice Department to award Nevada a $1 million grant to address overtime and associated personnel costs.
You can share this story on social media: