'He's going off-road': 10yo leads Ohio cops on high-speed car chase (VIDEO)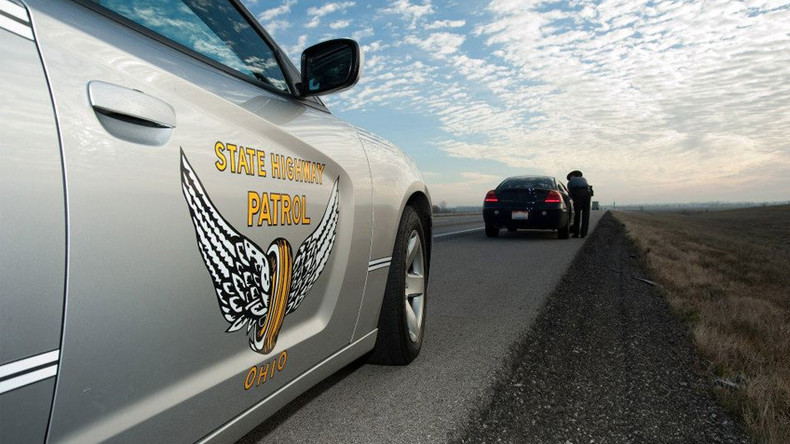 A 10-year-old boy led eight police cars on a high-speed chase in Ohio on Thursday after stealing a car from his family's home and hitting the road.
The minor reportedly commandeered the vehicle from his home in Cleveland and drove almost 50 miles (80km) to the Ohio turnpike, where he collided with a cop car.
READ MORE: 'I'm going down in history': Man broadcasts drunken, GTA-style police chase on FB live (VIDEO)
Following the theft, officers from the Ohio State Highway Patrol (OSHP) attempted to stop the boy in his tracks. However, they were met with resistance as the child veered off road to avoid speed traps.
Footage of the chase shows police attempting to surround the runaway child and his vehicle on a busy US motorway.
An officer can be heard warning his colleagues to "have cover" as the child speeds past a number of motorists and roadside obstacles. As officers deploy a spike strip to shred the stolen car's tyres and bring it to a stop, the boy then drives into a grassy ditch in a bid to evade them.
Another officer then advises a police unit to block the stolen car "as gently as possible" with their own vehicles. The high-speed pursuit eventually ends when the stolen car is spun into a road sign by a police SUV.
According to Ohio police, the incident is the second time in a month that the unnamed boy has got behind the wheel of a stolen vehicle.
Ohio State Trooper Richard Reeder said the boy refused to pull over during the pursuit. The 10-year old is also alleged to have assaulted police.
READ MORE: Leapin' loser! Detroit police chase ends with suspect jumping onto oncoming minivan (VIDEO)
"One of the troopers made visual contact, eye-to-eye contact with the child and motioned for him to pull over, and the child physically shook his head 'no' and continued driving," Reeder told Cleveland 19 news.
"When we were able to get him out of the car he was very agitated. He kicked one of the troopers in the shin, he then spit in the face of the same trooper," he added.
The boy has now been taken into custody by child services, according to ABC6.