Leapin' loser! Detroit police chase ends with suspect jumping onto oncoming minivan (VIDEO)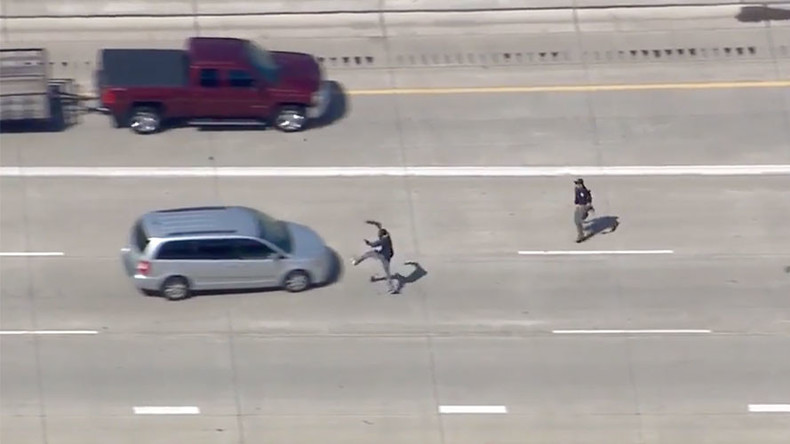 A wanted man connected to an attempted murder had already evaded Detroit police once, but when he jumped a freeway median and ran into oncoming traffic, there was no escape even after he ran up the hood and roof of a minivan.
The suspect led Detroit police on two high-speed pursuits Friday, entering and leaving Interstate-75 northbound several times before his front driver's side tire went flat before 1:00pm, KPRC reported.
The man abandoned his vehicle near the freeway's concrete median, before jumping and running into oncoming traffic. As a Chrysler Town and Country minivan attempted to drive around him, he bounded onto its hood and fell onto its roof. It's yet unclear what was going on in his head at this moment.
Homicide detectives had been chasing him in his charcoal gray SUV since 11:30am, Deputy Chief David LeValley told the Detroit Free Press.
A female victim was in extremely grave condition after being shot in the head Thursday morning in southwest Detroit, WJBK reported.
"The victim is at a local hospital in gravely critical condition," LeValley said. "There was an exchange of gunfire with a small caliber gun and she was hit in the head. He was an associate in the neighborhood in southwest Detroit."