'I'm going down in history': Man broadcasts drunken, GTA-style police chase on FB live (VIDEO)
Published time: 22 Jul, 2017 16:28
Edited time: 23 Jul, 2017 08:43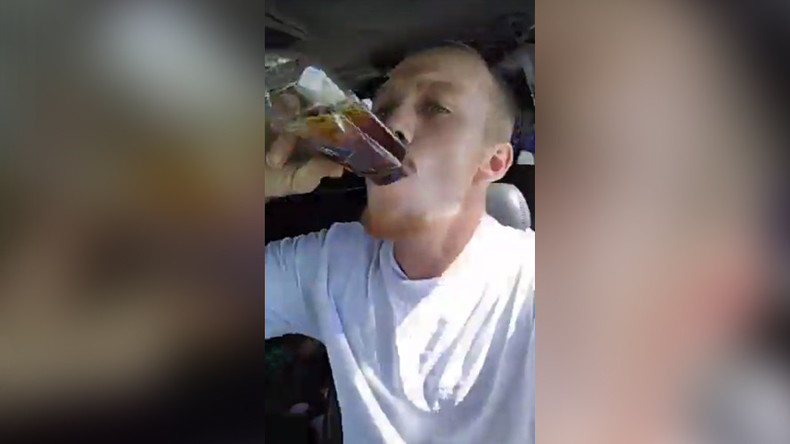 A 27-year-old man is facing multiple charges after leading police on a dangerous high-speed chase down a Florida beach. Ryan Stiles broadcast his alcohol-fueled crime on Facebook Live before being apprehended.
Stiles' rampage sent a number of sunseekers running for their lives as he sped down Clearwater beach in the Sunshine State, knocking over beach chairs in his Jeep Cherokee while swigging from a bottle of whiskey.
Throughout the five minute video, a clearly inebriated Stiles can be heard shouting "Yeah we're f**king goddamn live bro!" as police sirens wail in the background.
Undeterred by the pursuing cops, Stiles speeds down the beach, sometimes pointing the camera toward the chasing police cars.
At one point the joyrider beeps his horn as he approaches some beachgoers, narrowly missing them as he screams "crash parade bro! shit" as he smashes into some deck chairs.
"We're gonna die tonight, we're gonna goddamn die!" he then exclaims, before comparing his joyrider to the popular anarchic action-adventure video game 'Grand Theft Auto.'
Stiles then says he's run over some ground spikes, puncturing his tyres. "I'm going down in history" he says as his transmission gives out. Feeling the game is up, he turns to the bottle as police cars close in.
Stiles was arrested and brought to the station, were his rampage continued as he took off his belt and swung it around, shattering part of the glass in the door of the holding cell.
Stiles' charges include reckless driving, fleeing and eluding, DUI, driving with a suspended license, hit and run with property damage, felony criminal mischief and threatening a public servant.