Let them eat tofu: New York schools to serve mandatory vegetarian meals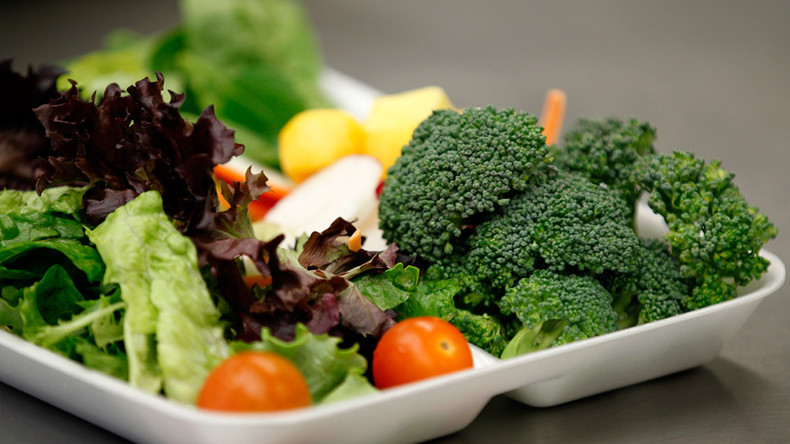 To save the planet, students at 15 public schools in Brooklyn will only be served vegetarian breakfast and lunch on Mondays, New York City's mayor has announced. The program is set to start in the spring of 2018.
"Cutting back a little on meat will help make our city healthier and our planet stronger for generations to come," Mayor Bill de Blasio said in a statement introducing the 'Meatless Mondays' nutrition program. The mayor also said he and his wife, Chirlane McCray, will also go meatless for all Monday meals, including those served to guests at Gracie Mansion, the mayor's residence.
Going vegetarian for one day a week could help reduce the carbon footprint and preserves resources like water, De Blasio argued, saying: "Approximately 1,840 gallons of water are needed to produce a single pound of beef, while only 39 gallons are needed to produce a pound of vegetables."
There are already five schools that have adopted the program. It appears to be limited to a small subset of students in New York City, which has over 1,700 public schools with 1.1 million students.
The schools in the program will serve a variety of meals, including spinach wraps, vegetarian chili, roasted chickpea tagine, black bean quesadillas, crispy tofu, zucchini parmigiana and margherita pizza. The initiative builds off a plant-based health initiative started by the Brooklyn Borough president Eric Adams, who is fighting against Type 2 diabetes.
The mayor sat down with students at Public School 1 in Brooklyn on Monday, asking them about their favorite vegetable.
"This is going to be the most shocking revelation of the week, number one with enthusiasm was broccoli," De Blasio said, according to the radio station WINS.
Not all the students are happy with the menu choice, however. When WINS asked eight-year-old Gavin Garcia whether his classmates liked the food they were eating, he said "No."
Asked what complaints they had about the menu, Garcia replied: "They don't like vegetables."