Now and then: The world according to Donald Trump
Published time: 24 Oct, 2017 22:19
Edited time: 25 Oct, 2017 08:35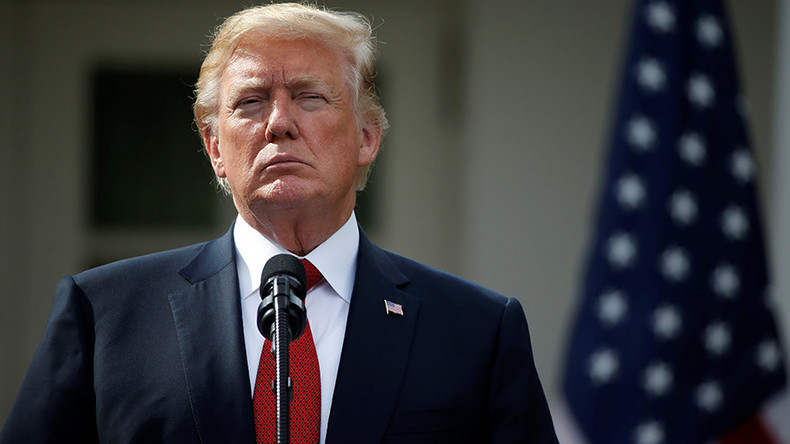 It's almost a year since Donald Trump shocked the world by defeating Democratic rival Hillary Clinton to become President of the USA. His term as Commander in Chief has become synonymous with constant upheaval in the White House and his avalanche of tweets, of course.
Twitter is apparently the president's preferred means of communication. He is using the platform as a modern day pulpit from which he praises friends and pours scorn on foes.
Trump is a prolific tweeter, authoring over 36,000 tweets so far. However, he hasn't always stuck to his script and has been known to change his mind on a host of issues since he moved from Trump Tower to the White House.
Here's just a few examples of Trump's Twitter hypocrisy.
1) In 2014, when 'The Donald' was just your run-of-the-mill billionaire property tycoon and reality TV star, he tweeted this:
Тwo and a half years later, it's Trump's critics saying that America is a rudderless ship, headed for disaster, its nuclear weapons firmly in the hands of a crazy and incompetent leader.
2) Though some 3 million more Americans voted for Clinton, Trump campaigned and won by targeting the majority in the Electoral College, a system he wasn't always fond of:
Four years later, rather than being a "disaster for democracy," it's actually "genius."
3) Trump was not a fan of the US attacking Syria. He lambasted former president Barack Obama for even thinking about it, imploring him not to do so in a series of tweets from 2013.
This, like so many of Trump's positions, turned out to be entirely malleable. After he ordered air strikes on Syria in 2017, he took to his favorite medium to thank the troops for a job well done.
4) Everyone likes a good holiday once in awhile, and being Commander in Chief of the biggest military force the world has ever known comes with a few stressful moments. So what better way to relieve all that stress than playing a few rounds of golf?
One would think that an avid golf enthusiast and golf club owner like Trump would be happy that he and predecessor Obama had at least one thing in common. Think again!
Prior to being elected, Trump consistently criticized Obama for spending his time golfing rather than governing. Here are just two examples:
Of the first 100 days of Trump's presidency, 19 were spent on golf courses. Since he was sworn in on January 20, he also spent 10 of the first 14 weekends at one of his golf clubs. A reported 28 percent of his presidency has been spent at Mar-a-Lago alone.
That's more rounds than Presidents Obama, George W. Bush and Bill Clinton played in all their first 100 days... combined. In fact, neither avid-golfer Obama nor Bush hit the links at all in their first weeks as POTUS.
5) "Sexual pervert Anthony Weiner has zero business holding public office."
Congressman Weiner's downfall ended up benefiting Trump, as federal authorities found emails to Hillary Clinton's aide, and Weiner's wife, Huma Abedin, while searching his laptop and announced the find just a week before the 2016 election.
Meanwhile, Trump has been accused of, shall we say, indelicate comments towards women.
What is to be done? According to the president, nothing, because: "Sadly, there is no cure."
6) In 2012, Trump claimed that an "extremely credible source" told him that Obama's birth certificate was a fake, fueling the conspiracy theory that the former president wasn't born in the US but in Kenya, casting doubt on the legitimacy of his presidency.
Fast forward to 2016, when Trump is busy blasting news outlets which he claims spread fake news through the use of unnamed and unverified sources:
If consistency is the hobgoblin of small minds, it seems the 45th American president has nothing to fear in that department. Or, as he would put it, he has "the best words."