Trump's first 100 days: The monumental golf edition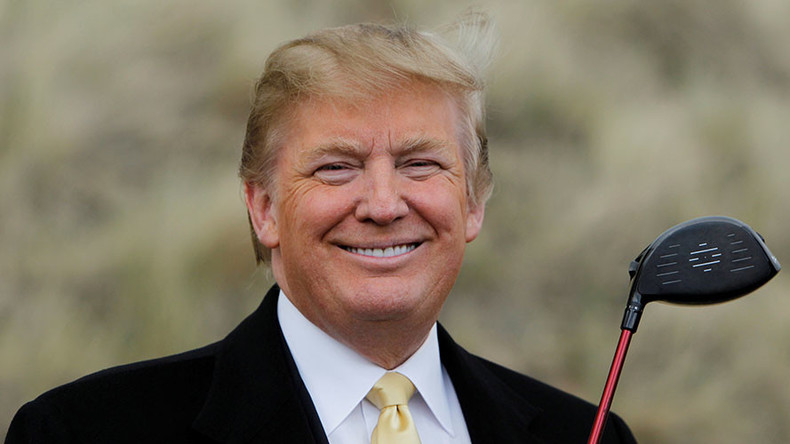 Donald Trump has officially racked up 100 days of service as president of the United States – but 19 of those he has spent on golf courses.
President Trump has spent 10 of the last 14 weekends since he was sworn in on January 20, at one of his golf clubs. And a reported 28 percent of his presidency has been spent in Mar-a-Lago alone.
That's more rounds than Presidents Barack Obama, George W. Bush and Bill Clinton played in all their first 100 days... combined. Much more. In fact, neither avid-golfer Obama nor Bush hit the green at all in their first weeks as commander-in-chief. Clinton did manage to squeeze three rounds in during his, according to the New York Times.
Keeping such a strict tally of Trump's expeditions will seem trivial to many, and presidents are entitled to their downtime. But there a couple of important factors worth noting when determining just how big a deal it is that Trump engages in his favorite pastime so often.
1. The cost
The total amount spent protecting the president during his seven trips to his Mar-a-Lago resort in Palm Beach, Florida, is $25 million. Or as the Center for American Progress Action Fund points out, the equivalent to funding 2,000 public school students for a year, or feeding 9,000 Meals on Wheels recipients, or funding 4,000 Medicaid recipients.
American taxpayers foot a reported $3 million bill each time Trump ventures to the private golf club. Palm Beach residents have been landed with a $1 million fee in additional costs to protect the president during his weekend getaways - something County Commissioner Dave Kerner thinks should be covered by the lavish resort.
READ MORE: MAR-A-LAGO Act introduced to disclose 'southern White House' visitor records
2. Hypocrisy
Back when he was more celebrity than politician, The Donald was heavily critical of the money-wasting time Obama spent on the golf course or on vacation.
Indeed, on the campaign trail Trump continuously vowed to exceed his predecessor by staying in the White House, insisting he would "have no time to play golf," unlike Obama who, he said, "played more golf than Tiger Woods."
However, a tally by Golf Digest found Obama played a total 206 rounds while in office. Over eight years, that averages out at a little more than 38 rounds per year.
If President Trump continues his frequency of club visits, he is expected to rack up more than 650 rounds over an eight-year period.
In addition, Obama spent about $97 million on travel expenses during his entirety at the White House, reports CBS News – a figure Trump could surpass by the end of his first year.
Of course, Trump's love for the game came as a surprise to absolutely nobody - he owns or operates 17 courses around the world. But as the media began to hone in on his increasingly frequent hobby, the president found new ways to play in peace and ditch prying reporters.
As such, the Trump administration became increasingly vague about the president's activities while at his golf resorts in Mar-a-Lago and Virginia. Is he on the 18th hole, in a meeting, at the spa?
Here's what we know for sure:
Timeline
Feb 4 – Trump spends his first overnight trip as president at his luxurious Mar-a-Lago resort in Palm Beach, Florida. He arrived at his nearby International Golf Club at 9:33am, leaves at 2:05pm wearing golf attire.
Feb 5 – Trump arrives at the golf club at 9:27am, leaves at 2pm. According to a pool report that day, "the White House shares that while at the Trump International Golf Club, he has had meetings and may play a few holes of golf."
Feb 11 – The president arrives at the Trump National Golf Club in Jupiter at 9:26am with Japanese Prime Minister Shinzo Abe. The two play 18 holes with two-time US Open champion Ernie Els. Trump and Abe leave the club at about 1:30pm.
On the same day, after Trump and Abe left the Jupiter club, they visit Trump International in Palm Beach, where they reportedly played another nine holes.
Feb 12 – Trump is back on his old stomping ground, the International Golf Club in West Palm Beach. He arrives at the club at 8:31am, leaves at 1:49pm and appears to be wearing golf attire.
Feb 18 – The president arrives at the Mar-a-Lago resort for the third weekend in a row. Stays at the International golf club from 8:51am to 1:16pm. When asked the next day if Trump played golf during the 4 ½ hour visit, White House spokeswoman Sarah Huckabee Sanders said: "I do believe he played a couple of holes."
Feb 19 – Trump arrives at the club at 8:58am, leaves at 2:25pm. Again, when asked if the president was playing golf during that time, spokeswoman Sanders said: "I know he played a couple of holes this morning, but I'm not going to disclose any of the others that were there."
It later transpired that the president played 18 holes with four-time major champion Rory McIlroy. After the McIlroy news, Sanders clarified that the president "intended to play a few holes and decided to play longer. He also had a full day of meetings, calls and interviews for the new NSA (national security adviser)."
Surprised by the international backlash, McIlroy released a statement the following week defending his decision to play with the political heavyweight.
READ MORE: Trump interrupts CEOs' meeting to regale them with 'hole in 1' golf story (VIDEO)
Mar 4 – Trump flies in for yet another weekend visit to Mar-a-Lago, this time to attend a charity ball at the resort. But not before accusing President Obama of wiretapping Trump Tower during the election and squeezing in a quick 3 ½ hour visit to his favorite golf club. The White House had said he "might hit a few balls."
Mar 5 - POTUS arrives at Trump International at 9:02 am, departs at 12:48 pm. The White House doesn't confirm if he played golf or not, but says he was taking meetings and phone calls while there.
Mar 11 - His ninth golf course visit in seven weeks, the President makes the 25-mile trip to Trump National Golf Club in Sterling, Virginia, to hold a meeting with cabinet secretaries and other senior White House staff to discuss the "military and other things."
Mar 18 - Trump returns to Mar-a-Lago for a weekend trip, spends four hours at the International "having meetings and phone calls." White House officials declined to comment on whether the president golfed.
However, a photo of The Donald wearing a golf glove while at the club was later posted to social media by Newsmax Media CEO, Christopher Ruddy.
Mar 19 - The president arrives at Trump International at 8:37 am, leaves at 12:10pm - which totals more than seven hours spent at the course on this particular weekend. White House spokeswoman Lindsay E. Walters told reporters Trump "may step out to hit balls, but I cannot confirm that at this time."
While travelling back to DC on Air Force One Trump told reporters he played "very little" golf as he had been busy with meetings.
Mar 25 - Trump travelled to his National Golf Club in Virginia for 4 ½ hours of "meetings."
Despite multiple requests the press pool are kept in the dark as to what the meetings regard. Multiple social media posts appear to show Trump playing golf.
READ MORE: Fox News trolled for news alert about Trump working in White House
Mar 26 – Trump, once again, travels to his Virginia golf club, his 13th golf course visit during his nine weeks in office. However, on this occasion, the POTUS stayed for less than an hour, during which he conducted three short meetings, according to the White House, and appeared to watch golf on television.
By March 28, Trump has spent 17 of his first 67 days at Mar-a-Lago and people are starting to take notice. The Government Accountability Office watchdog agrees to review the president's travel costs and security precautions.
Apr 2 – The president plays golf with Senator Rand Paul and Mick Mulvaney, the White House budget director, at Trump National Golf Club in Virginia. White House spokeswoman Stephanie Grisham said the trio would be golfing and talking about health care policies.
On April 7, Trump welcomed Chinese President Xi Jinping to his Mar-a-Lago retreat, an unconventional move considering the White House is usually regarded as a symbolic place to greet foreign leaders. No apparent golf was played during Xi's stay.
Apr 8 – The POTUS arrives at Trump International at 9:05am, departs at 2:15pm. Reportedly spotted on the golf course by Palm Beach Post photographer Allen Eyestone.
Apr 9 - Trump is photographed golfing at the International in Palm Beach.
Apr 14 - Trump lands in Mar-a-Lago for some Easter celebrations, manages to fit in a three-hour visit to the International Club. The press pool fail to get a glimpse of the president, as they're held in a "library directly across the street," reports say Trump played golf.
"No word on what the president is actually doing this morning we'll provide that if/when we get an answer," read the pool report, adding that the April breeze makes for an "admittedly perfect day for golf."
Apr 15 - Trump arrives at the International golf club at 8:58am on Saturday morning, although it wasn't clear if he played golf or not. The press pool are, once again, held at the Palm Beach County Public Library across the street. Reporters note if one were to play golf "he or she would be rewarded with 75 degrees and partly sunny skies."
READ MORE: Trump could use UK trade deal to boost his golf resorts, warn ethics experts
Business & Pleasure
The president's second-eldest son, Eric Trump, has been a vocal advocate for his father's love of the game, often defending the pastime as a clever business and relationship-building strategy.
"You can sit with somebody in a golf cart where there might be cultural differences and language barriers and have a good time and build a friendship in a way that you could never do sitting across an office table from someone," said Eric to the Irish Independent.
"If he could do that with Putin..." Eric suggested when discussing the same topic with the New York Times.
Senator Joni Ernst (R-Iowa) openly spoke about her disapproval for "the Florida issue," describing Trump's golfing habits as something that has "been bothering not just me but some other member of our caucus."
"The president is entitled to a bit of privacy at some point," said White House Press Secretary Sean Spicer when asked why neither Trump nor his aides provide the press with any details in regard to the alleged meetings he holds at the golf clubs.
Spicer, who has also publicly criticised Obama's golfing in the past, argued Trump's criticism of Obama's golf game is still valid as the President utilizes his time on the course to "help foster deeper relationships" with leaders which will, in turn, "help US interests."
Spicer added that it was be a "vast reach" to suggest the president will curb his costly trips in order to save some American tax dollars, arguing that "presidents always travel."