MAR-A-LAGO Act introduced to disclose 'southern White House' visitor records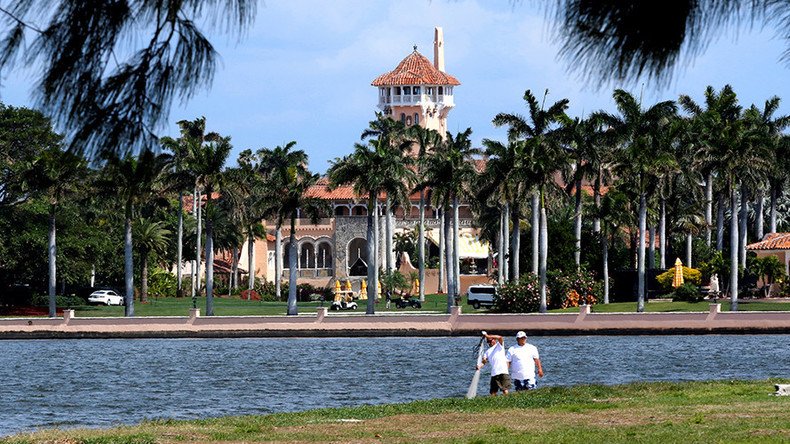 Democrats have introduced the creatively acronymized MAR-A-LAGO Act requiring the White House to publish the visitor log for Mar-a-Lago, President Donald Trump's resort where he has spent nearly a quarter of his time in office.
"Making Access Records Available to Lead American Government Openness Act," or the MAR-A-LAGO Act was introduced Thursday by Senators Tom Udall (D-New Mexico), Sheldon Whitehouse (D-Rhode Island), Jack Reed (D-Rhode Island) and Tom Carper (D-Delaware).
A House version of the bill is also being introduced by Congressman Mike Quigley (D-Illinois).
The legislation would force Trump to publish the visitor logs at the White House and various other Trump Organization properties frequented by the president, including Trump Tower in New York City, the Trump National Golf Club in New Jersey and the Mar-a-Lago resort in Florida, which Trump has dubbed the "southern White House."
The bill comes after the Trump administration refused to continue a policy established by former President Barack Obama, who regularly released the visitor logs for the White House three to four months after they were created.
John Wonderlich, executive director of the Sunlight Foundation, says the Obama policy of publishing the visitor logs "provided the American public with a meaningful window into the influence and operations of the White House, despite its flaws," according to a press release from Udall.
The current visitor log on the White House website says that it "is being updated," but Democrats say they want to see visitor logs on the page by April 20.
In a letter to Trump and William Callahan, the Secret Service deputy director, many of the same Democratic lawmakers asked that the visitor logs be reinstated, citing the lack of transparency in the Trump administration.
"Trump's conduct of official business at private property to which some members of the public have access appears to be unprecedented in recent times," they said.
In his Thursday press release, Udall said that the American people "have a right to know who has access to the president and who has leverage over this administration."
"Given President Trump's unprecedented decision to regularly conduct official business at his private business properties, the Trump administration has an obligation to make public the visitor lists at places like Mar-A-Lago and Trump Tower," Udall said.
Whitehouse says that the administration has repeatedly "stonewalled" requests from Congress for information about his guests, which could pertain to conflicts of interest.
"Dark money groups are spending millions on campaigns to confirm his controversial nominees for the Cabinet and Supreme Court. He joins top Administration officials to mingle with the ultra-rich at his 'Winter White House' and won't say who paid $200,000 for the privilege."
Whitehouse suggests that if the Trump administration refuses to publish the visitor logs, Congress should require them.
"If he won't adopt that policy himself, Congress should require it," Whitehouse says.
Trump was criticized by Democrats for having an open-air meeting at Mar-a-Lago with Japanese Prime Minister Shinzo Abe in the first month of his presidency.
Trump, who repeatedly criticized Obama for taking too many vacations, has already made a total of five trips to Mar-a-Lago, and 11 trips to the golf course in just over eight weeks since he became president.
Trump today made his 11th trip a Trump-owned golf course in 8 weeks as president.

Here are his previous tweets about presidents and golf: pic.twitter.com/bSINMTc4Mh

— Bradd Jaffy (@BraddJaffy) March 19, 2017
It is unlikely that the MAR-A-LAGO Act will become law, since it has to pass through a Republican-controlled Congress and be signed by Trump.
You can share this story on social media: