'Disrespectful' Donald Trump tombstone erected at school's Halloween party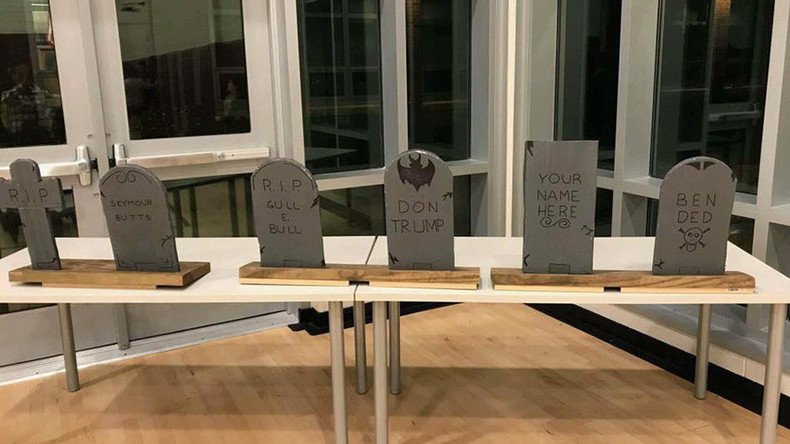 A Massachusetts elementary school has found itself in hot water after a tombstone bearing the name of US President Donald Trump appeared at a Halloween party in the school.
The tombstone was part of a game at a fundraising party organized by the school's parent-teacher organization in West Parish Elementary School, Gloucester on Friday.
The photo of the tombstone attracted considerable attention online. Predictably the reaction broke down along partisan lines with numerous people labelling the prop a "disgrace" while others said it was "not a big deal."
A number of parents sent pictures of the tombstone to Massachusetts Republican Party committeewoman, Amanda Orlando Kesterson, who denounced it as "disgusting" in an angry post on Facebook.
"I find it absolutely despicable that the PTO (Parent Teacher Organization) of one of our local elementary schools would bring this political agenda before our children," Kesterson said.
The school's principal, Telena Imel, issued an apology in a letter to parents.
"While, according to the parent, this was designed to be humorous, a number of attendees rightfully felt that it showed disrespect ... it inappropriately brought a political agenda into what was designed to be a fun family affair," the apology read, as cited by the Boston Herald.
This isn't the first time someone has sought to prematurely bury Donald Trump. During last year's presidential election campaign, a tombstone bearing his name was erected on New York's Central Park.
The tombstone was inscribed with the words "Make America Hate Again." It was later removed by New York's Department of Parks and Recreation.
You can share this story on social media: