'We don't need you on this': Trump says US can pressure Iran without EU's help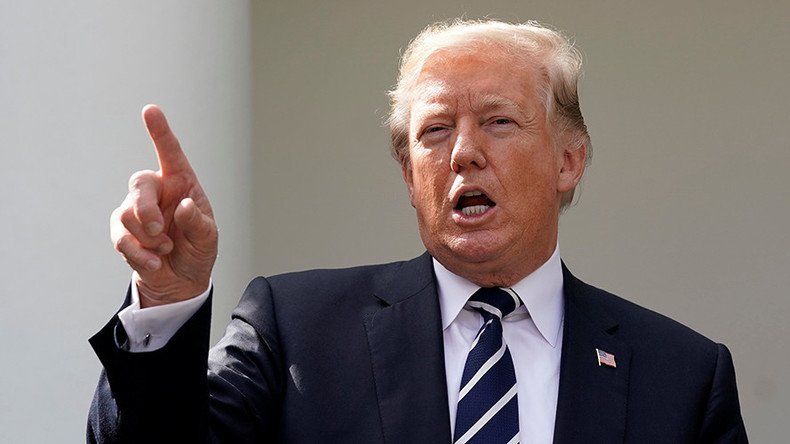 Donald Trump said the EU would have supported US sanctions on Iran if he was insistent. But, according to the US president, he allowed Germany and France to keep making money with Tehran as America was capable of putting pressure on Iranians on its own.
When asked by Fox News if Europe is going to support his new strategy on Iran, Trump replied by saying that he has really warm relations with French and German leaders."They're great friends of mine. They really are. I get along with all of them, whether it's Emmanuel [Macron] or whether it's Angela [Merkel]... I really like those people," he said.
As for the Iranian issue, Trump stressed: "I told them [the EU]: 'Just keep making money. Don't worry about it. We don't need you on this."
He expressed the belief that Europe was reluctant to back his anti-Iranian push for purely economic reasons.
"When Iran buys things from Germany and from France" it allows them to earn "billions of dollars," Trump said, adding that "when they [the Iranians] buy those things, it's a little harder for those countries to do something."
However, the US president concluded by saying: "Would they [the EU] do it if I really was insistent? I believe they would."
In mid-October, Trump announced that he wouldn't certify that Iran was complying with the landmark nuclear deal it reached in 2015 with the administration of then-US President Barack Obama and five other world powers – Russia, France, Germany, China and the UK.
He said that the US Congress had 60 days to decide if the US should reinstate sanctions against Tehran, and warned that the accord may be terminated if "we are not able to reach a solution working with Congress and our allies."
READ MORE: 'Anti-modernist' Trump aims to sink Iran deal as part of Obama legacy destruction – German FM
Other restrictions were also introduced, including branding the Iranian Revolutionary Guard Corps a terrorist organization. The new US policy on Iran was praised by Saudi Arabia and Israel, but received condemnation from the other signatories to the nuclear accord, including those in Europe.
READ MORE: Iran nuclear deal break-up would jeopardize global security, situation on Korean peninsula – Lavrov
EU foreign policy chief Federica Mogherini said the Iranian deal was not a "bilateral agreement" and that it could not be terminated by any single country.
The UK, France and Germany issued a joint statement, stressing that the nuclear accord was in their "shared national security interest" and adding that they "stand committed" to the deal and "its full implementation by all sides."
You can share this story on social media: