Iran nuclear deal would collapse without US – Iranian top official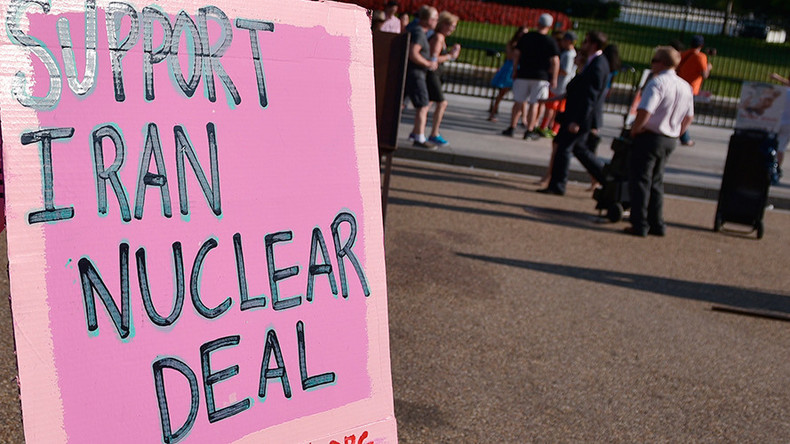 The Iranian nuclear deal would collapse without the US, the Iranian Deputy Foreign Minister said, adding that Washington does not comply with the deal conditions, a move which is "totally unacceptable."
"[Imagine] the US quit. Can we continue our work with the EU? We're not there yet, but I personally believe that the whole deal would collapse and fall apart without the US," Abbas Araghchi said, speaking at the Non-proliferation Conference in Moscow on Saturday.
In the meantime, Araghchi accused Washington of failing to comply with the terms of the deal.
READ MORE: Missile program will 'expand & continue' despite US pressure – Iran's Revolutionary Guards
"Everyone says that Iran should comply with the deal, [but] the US don't comply with their part of the bargain which is totally unacceptable," he said.
The US have repeatedly violated the conditions of the deal, Araghchi stated, adding that everything Donald Trump says against the deal is already "a violation."
The Iranian nuclear deal, also known as the Joint Comprehensive Plan of Action, was ratified in Vienna in July 2015. The agreement was reached between Tehran and the so-called 'P5+1' – five permanent members of the UNSC (China, France, Russia, the UK and US) as well as Germany.
However, recently the agreement has become a hot topic for discussions since US President Donald Trump opted to not certify the nuclear deal in October.
Trump's move triggered criticism from other signatories. French Foreign Minister Jean-Yves Le Drian said he hoped "that Congress does not put this accord in jeopardy." Le Drian was speaking on behalf of the IAEA (International Atomic Energy Agency), the German chancellor, the British prime minister, and the French president.
Later Trump added fuel to the fire, saying that a total termination of the Iran nuclear deal is a very real possibility.
On Friday Araghchi told journalists that Iran does not believe that any additional inspections on Iranian nuclear sites are necessary. There is no need to change or add any chapters into the deal, he added.
READ MORE: Iran has plan if US withdraws from nuclear deal, Washington 'will regret it' – MP
"We won't be the first [to] withdraw from the deal… we will be committed to our obligations. We will not be the first who violate the agreement," Araghchi, adding that Iran would "react" to those who quit the agreement.
Also on Friday Russian Foreign Minister Sergey Lavrov said breaking up the deal would jeopardize global security.
"Restoring the UN Security Council sanctions [on Iran] is out of the question," Lavrov added.
You can share this story on social media: