Iran has plan if US withdraws from nuclear deal, Washington 'will regret it' – MP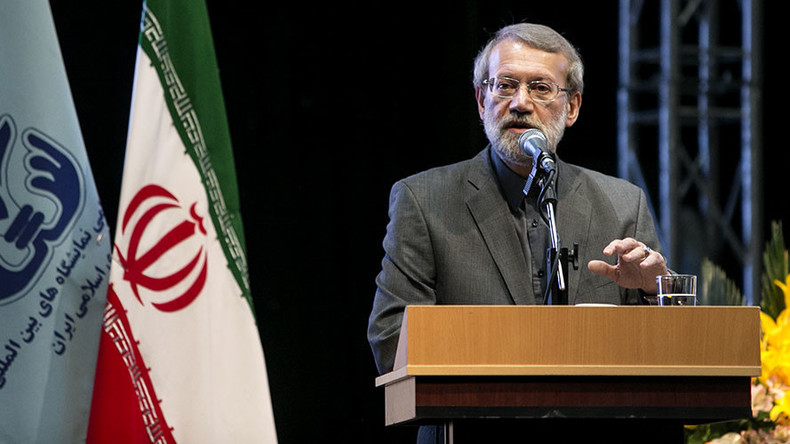 Tehran has a detailed plan of action in case Washington backs out of the nuclear deal, Iranian Parliament speaker Ali Larijani said, adding that the US "will regret" the decision.
"We have a plan… We've recently approved in parliament what we should do given the Americans undertake certain steps," Larijani told reporters Monday on the sidelines of the Inter-Parliamentary Union meeting in St. Petersburg. "We will take steps so that the Americans will regret it."
Iran considers a number of different scenarios, Larjani added, without providing further details.
US President Donald Trump has decided not to certify the nuclear deal, officially known as the Joint Comprehensive Plan of Action (JCPOA). The deal was originally signed in 2015 by the 'P5+1' group of the UN Security Council (China, France, Germany, Russia, the UK, and the US) and the European Union.
Trump, however, stopped short of breaking the US part of the deal altogether, and instead expressed a need to fix what he described as flaws in the agreement.
"We'll see what happens over the next short period of time and I can [cancel the deal] instantaneously," Trump told reporters, when asked why he chose not to withdraw from the deal immediately.
Dismantling the agreement with Iran, which provides for the limitation of the country's nuclear program for 15 years in exchange for relief from economic sanctions, was one of the major promises made by Trump during his election campaign. He has repeatedly criticized the agreement as "the worst deal ever negotiated" and accused Tehran of violating the spirit of it.
Iran's compliance with the deal, however, has been repeatedly confirmed by the UN nuclear watchdog, which reiterated on Friday that the agreement provides the "world's most robust nuclear verification regime" and that the agency "had access to all locations it needed to visit" and did not find any violations.
You can share this story on social media: