West Point, Air Force Academy rocked by scandals, former professors criticise leadership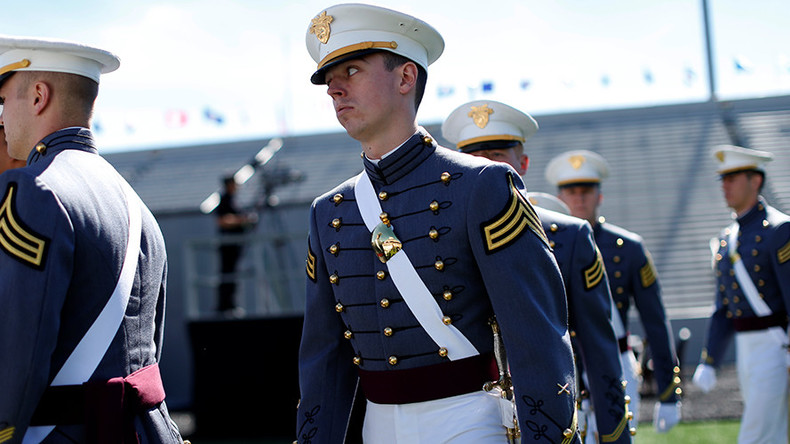 Cadets at two major US military academies are currently under criminal investigation as former professors at West Point and Annapolis have criticized senior leadership at the schools for failing their cadets.
AIR FORCE ACADEMY
Two separate investigations are being conducted at the US Air Force Academy (USAFA) after more than a dozen freshman cadets were accused of cheating on a test and separate allegations of misconduct by members of the school's lacrosse team emerged.
On Monday, Director of Air Force Academy Public Affairs Lieut.-Col. Allen Herritage confirmed an investigation into 13 freshman cadets accused of cheating on a test of basic Air Force knowledge.
"These tests are part of their military instruction and consist of questions related to military history, rank structure and other general knowledge," Herritage told The Colorado Springs Gazette, adding that he cannot disclose any further information due to the ongoing nature of the investigation.
The exam does not carry a formal grade, but freshman cadets are expected to know the material before the beginning of the Spring semester.
Herritage also confirmed a second investigation into "the conduct of several players" on the Academy's Lacrosse team, again adding that he cannot disclose any further information due to the ongoing nature of the investigation.
According to an email outlining the investigations obtained by KRDO, members of the Academy lacrosse team were engaging in "hazing, bullying, abusive sexual contact and drug use."
Herritage said that the Academy is looking into the allegations and takes them very seriously.
"That's why these investigations are ongoing, because the concept of accountability is essential, both as we run an institution of higher learning and as we develop leaders who will lead Airmen in the future. Because in the end, America will hold its Air Force accountable for defending this nation," Herritage said.
WEST POINT
A West Point graduate and Afghanistan combat infantry veteran also came under fire after he recently posted photos of himself with pro-communist messages hidden under his graduation uniform.
2nd Lieut. Spenser Rapone posted one image where he is revealing a handwritten message written under his cover that said "Communism Will Win," while another one showed him revealing a Che Guevara shirt under his uniform.
Spenser Rapone the communist that graduated from West Point, should be court marshaled immediately. He is a traitor & an ISIS sympathizer. pic.twitter.com/dCMDz18a6k

— Keith Jahnke (@Keith_Jahnke71) October 7, 2017
In response, retired Lieutenant Colonel Robert Heffington, a former professor at West Point, wrote an open letter to the Academy's graduates, blaming the cadet's behavior on a "culture of permissiveness and apathy" at the Academy.
"I personally witnessed a series of fundamental changes at West Point that have eroded it to the point where I question whether the institution should even remain open," Heffington wrote. "The recent coverage of 2LT Spenser Rapone — an avowed Communist and sworn enemy of the United States — dramatically highlighted this disturbing trend."
Heffington, who claims he had "direct interactions" with Rapone and his mentors, said that Rapone was able to graduate, because standards at the Academy are "nonexistent."
He blamed the Academy's senior leadership for turning West Point into "a third-rate civilian liberal arts college."
"The Superintendent refuses to enforce admissions standards or the cadet Honor Code, the Dean refuses to enforce academic standards, and the Commandant refuses to enforce standards of conduct and discipline. The end result is a sort of malaise that pervades the entire institution. Nothing matters anymore," Heffington wrote. "Cadets know this, and it has given rise to a level of cadet arrogance and entitlement the likes of which West Point has never seen in its history."
Less than 24 hours after Heffington's letter was published, West Point Superintendent Lieut- Gen. Robert Caslen Jr wrote a letter to the members of the United States Military Academy (USMA) community, confirming that Rapone is currently being subjected to two ongoing investigations conducted by both West Point and his commanders with the 10th Mountain Division.
"It is my duty to thoroughly investigate concerns pertaining to the effectiveness of our systems and processes to maintain the outstanding quality of USMA graduates that the Nation expects," Caslen wrote. "I am committed to fulfilling that duty to both our graduates and the American people. It is imperative that this be done right."
Caslen said that he does not take Heffington's allegations lightly, adding that he will respond with "facts addressing his allegations."
"And then you can judge for yourself whether our graduates are serving our Nation with character imbued with the values of Duty, Honor and Country, or not," Caslen wrote.
ANNAPOLIS
On Monday, Bruce Fleming, a tenured civilian professor of English at the US Naval Academy in Annapolis, wrote an Op-Ed for the Federalist, reinforcing Heffington's claims.
Fleming said that he has been making the same points about the United States Naval Academy in Annapolis, Maryland.
Fleming said there are few reasons to attend a military academy when cadets can receive an education from an Officer Candidate School, or the Reserve Officers' Training Corps (ROTC) programs, where cadets are allowed to party, have sex and major in what they want.
He also refuted the idea that cadets at military academies are the "best and the brightest," claiming that while he served on the Admissions Board, they considered about 4,500 applications for about 1,800 admittances and those admitted had SAT scores about 100 points lower than students at Ivy-level schools.
As an English teacher for over three decades, Fleming said that most of his students only take his class because it is mandatory.
"The vast majority are going through the motions, sleeping in class, memorizing, then mind-dumping largely technical material they forget anyway and whose utility has never been shown," Fleming wrote.
In the end, Fleming compared military academies to Disneyland, saying they are "run for the benefit of the brass and the tourists, not the taxpayers who pay their way and want better-than-average officers."
"The service academies are now the vanity projects of the military brass, not viable contributions to US defense. They're like all those military jets the current cabinet members love to use: flashy, expensive, and lots of fun," Fleming wrote.
Fleming suggested that the ROTC should handle undergraduate education for cadets, and use military academies for military graduate courses.
You can share this story on social media: