'It won't be pretty': Trump & McCain at each other's throats again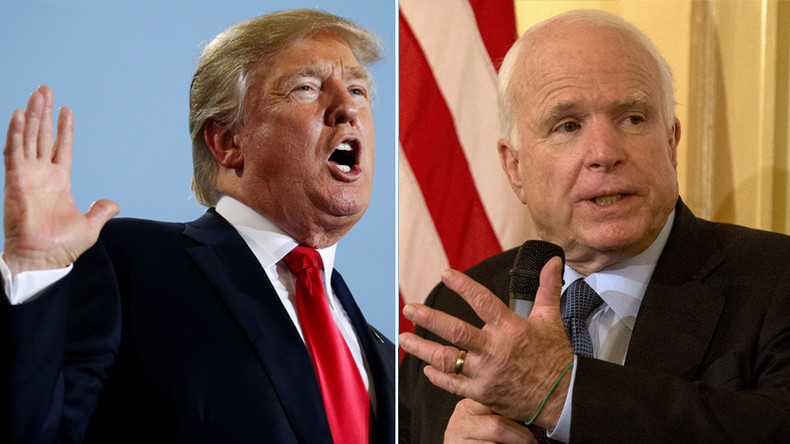 Donald Trump said he will fight back and that it "won't be pretty" after Senator John McCain (R-Arizona) made remarks which seemed to accuse people like the president of being unpatriotic.
The veteran senator denounced "half-baked, spurious nationalism cooked up by people who would rather find scapegoats than solve problems," as he accepted the National Constitution Center's Liberty Medal in Philadelphia on Monday from former Vice President Joe Biden.
McCain added that such a worldview "is as unpatriotic as an attachment to any other tired dogma of the past that Americans consigned to the ash heap of history." The remarks were widely interpreted as a shot at Trump, although McCain did not mention him by name.
Asked about the remarks on Tuesday, Trump said he intends to fight back.
"Yeah, well I hear it and people have to be careful because at some point I fight back. You know, I'm being very nice. I'm being very, very nice. But at some point I fight back and it won't be pretty," the president told radio host Chris Plante.
"It's fine with me," McCain told reporters on Capitol Hill, when asked about Trump's apparent threat. "I've faced some fairly significant adversaries in the past."
The senator, however, denied that his Monday charge against "spurious nationalism" was explicitly directed at the president.
"I was referring to the whole atmosphere and environment," McCain said, adding that "there's a whole lot of people besides the president who have said 'America First.'"
The beef between two Republican politicians stretches as far back as Trump's presidential campaign, when then-candidate Trump suggested that McCain was "not a hero," despite having been tortured as a prisoner of war during the Vietnam War.
"I like people who weren't captured," Trump had said.
McCain, who revealed in July that he has an aggressive form of brain cancer, has spent the past several months blocking attempts by the GOP to repeal and replace the Obama-era healthcare law, widely known as Obamacare, citing the lack of a proper replacement plan.
Trump has repeatedly expressed frustration with the legislative quagmire, and pledged to end the law through executive action. He also pointed out McCain's past promises to repeal Obamacare.
A few of the many clips of John McCain talking about Repealing & Replacing O'Care. My oh my has he changed-complete turn from years of talk! pic.twitter.com/t9cXG2Io86

— Donald J. Trump (@realDonaldTrump) September 26, 2017
"I think we'll have a lot done. We need some votes from some of the Republicans that for some reason they weren't there on healthcare," the president said. "They should have been. We thought we had it, but John McCain voted no, which was a shocker."
McCain claims his opposition to Trump's legislative initiatives is not based on any "personal disagreement."