'We don't have the votes': Senate cancels vote on Obamacare repeal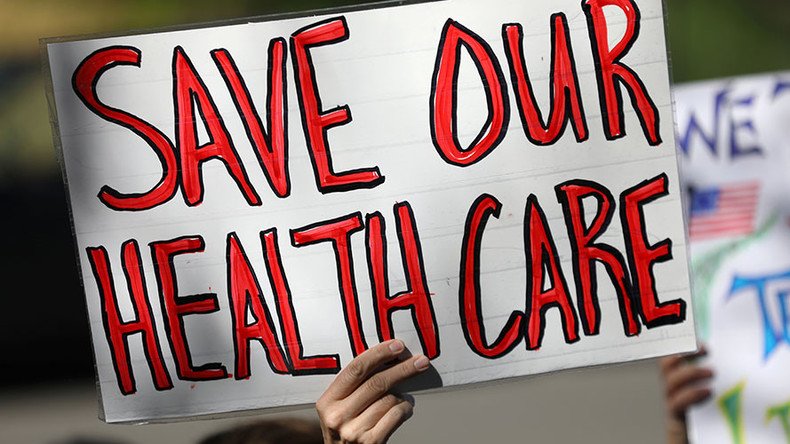 Yet another attempt to repeal and replace the Obama-era Affordable Care Act has failed in Congress, as the Senate's Republican leadership scrapped a vote on the latest initiative predicting that it would fail.
"We don't have the votes," said Bill Cassidy (R-Louisiana), who together with Lindsay Graham (R-South Carolina) authored the new initiative to replace the legislation widely known as Obamacare.
"We made the decision that because we don't have the votes, we will postpone the vote," Cassidy said, after Senate Majority Leader Mitch McConnell (R-Kentucky) officially pulled the plug on the vote, less than two months after another repeal initiative failed in Congress.
In July, Senator John McCain (R-Arizona) cast the deciding vote against repealing Obamacare, complaining about the rushed process. McCain voiced the same complaint this time, even though the new bill was put forward by Graham whom he calls his close friend.
On Monday, Senator Susan Collins (R-Maine) announced her opposition, joining McCain and Rand Paul (R-Kentucky).
Graham and Cassidy tried to get the repeal legislation passed under the Senate's budget reconciliation rules, which expire at the end of the fiscal year, on September 30. Under this process, the Republicans could pass a health care bill with just 50 votes. Going forward, they will need 60 votes, which would require some Democrats to cross the aisle.
Graham told reporters Tuesday that the GOP will return to their bill "with a process that gives more attention and time," directly addressing concerns from McCain and others.
Because of Obamacare, health care costs for the average American family have skyrocketed, Cassidy said. He cited a report saying that the average family of three making 82,000 dollars a year will be paying 29,000 per year for their policy.
"Those families are not celebrating, they are mourning," Cassidy said.
The main thrust of the Graham-Cassidy bill was to give money to the states, so that each would decide what health care model their constituents wanted to go with. It would have also scrapped Obamacare's individual mandate, which fines people who don't buy comprehensive health insurance.
The Congressional Budget Office said the Graham-Cassidy bill would reduce the budget deficit by at least $133 billion but "result in millions fewer people with comprehensive health insurance that covers high-cost medical events."
President Donald Trump called Obamacare a "disaster" and urged GOP leaders to repeal and replace it, saying he will sign any such bill that lands on his desk.
A few of the many clips of John McCain talking about Repealing & Replacing O'Care. My oh my has he changed-complete turn from years of talk! pic.twitter.com/t9cXG2Io86

— Donald J. Trump (@realDonaldTrump) September 26, 2017
The president has repeatedly scolded Republicans, including McCain, who for years promised to repeal Obamacare but have not yet delivered.
On Monday, Trump posted an old video of McCain talking about repealing and replacing Obamacare. "My oh my has he changed – complete turn from years of talk!" the president said.
You can share this story on social media: