Disappearance of Las Vegas hotel security guard deepens shooting mystery
Published time: 17 Oct, 2017 22:02
Edited time: 21 Feb, 2018 09:46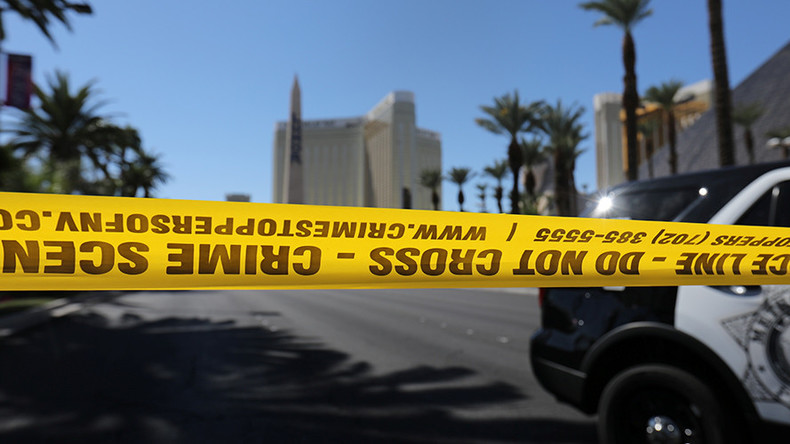 The hotel security guard wounded by the Las Vegas hotel shooter is in a safe place after going to a medical clinic last week instead of showing up for scheduled TV interviews, according to MGM.
"Jesus Campos wants to tell his story at a time and place of his choosing," MGM Resorts International spokeswoman Debra DeShong told AP on Tuesday. "He's asked that everyone respect his request for privacy."
The company did not say where Campos was staying.
Campos had already spoken to police about the night of the shooting, but wanted to go public and tell his side of the story about the events of October 1, according to David Hickey of the Security, Police, and Fire Professionals of America (SPFPA).
The security guard went to ground shortly before his scheduled TV interviews last Thursday, including a high-profile one with Fox News' Sean Hannity. Hickey said he had received a text saying Campos was taken to the United Medical Center Quick Care facility. A clinic spokesperson told Fox News they had not heard about Campos coming in, however.
Campos was initially a hailed as a hero after police said that he unwittingly interrupted Stephen Paddock's assault on concertgoers at the Route 91 Harvest Festival. Fifty-eight people died in the attack, the worst mass civilian shooting in modern US history. Police said a total of 546 people were injured.
The unarmed security guard arrived in the hallway of the Mandalay Bay resort to investigate a report of an open door on the 32nd floor. As he approached the gunman's suite, Paddock opened fire, shooting Campos in the thigh.
Clark County Sheriff Joe Lombardo said the security guard was shot by "strafing" gunfire through the door. Paddock had installed cameras in the peephole and on a service cart in the hallway to enable him to see anyone approaching.
The police timeline changed dramatically a week after the shooting, when Lombardo said Campos reported he had been wounded at 9:59pm, six minutes before concertgoers reported shorts coming from the hotel.
Several days later, Lombardo changed the timeline again, saying that Campos had been dispatched to the 32nd floor at 9:59pm and was actually wounded in the hallway less than a minute before the attack on the concert started at 10:05pm, and ended at 10:15pm.
The guard's account of the events was expected to shed more light on what happened in the moments before the shooting.
Last week on NBC's Today show, Mandalay Bay maintenance worker Stephen Schuck described seeing Campos in the hallway while both of them were pinned down by gunfire. Schuck then declined further interviews.
So far, the police have not found a motive for Paddock's attack. The Islamic State issued a statement claiming responsibility, but no link has been established so far between the terrorist group and the Vegas shooter.