'Chelsea bomber' Rahimi found guilty on all counts
Ahmad Khan Rahimi, the so-called "Chelsea bomber," was found guilty on all counts by a New York jury. The charges carry a possible sentence of life in prison.
Prosecutors said Rahimi, 29, was inspired by Al Qaeda and Islamic State (IS, formerly ISIS/ISIL) when he planted bombs in New York City and New Jersey on September 17 last year in a "cold and calculating attack."
The bomb that exploded in the Chelsea neighborhood of Manhattan injured 30 people, but there were no fatalities. A second bomb was placed four blocks away, but never exploded.
Earlier in the day, Rahimi had placed a pipe bomb along the course of a US Marine Corps charity race in Seaside Heights, New Jersey. It detonated prematurely and did not cause injuries.
Read more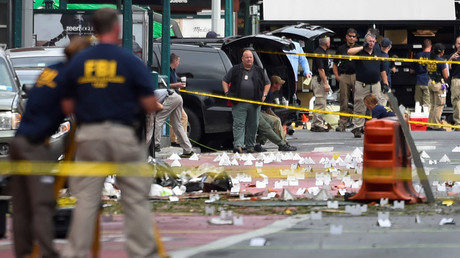 The remaining bombs were left near the Elizabeth, New Jersey, train station and were found the following day by two homeless men who alerted the authorities. They exploded during the attempt to diffuse them by a police bomb robot.
Charges against Rahimi included using a weapon of mass destruction, bombing a place of public use, destroying property with an explosive and using a destructive device to further a crime of violence, AP reported. Three of the charges carry a mandatory sentence of life in prison.
Rahimi, who was born in Afghanistan and lived in Elizabeth, New Jersey, did not testify. His defense attorneys argued that he had a change of heart after the first bomb exploded and chose not to detonate the rest of them.
Fingerprints and DNA on the recovered unexploded devices, as well as surveillance video, helped the authorities identify Rahimi as the bomber.
After his description was made available to the public, his car was reported near the US Military Academy at West Point. That report proved to be incorrect, however.
Police arrested Rahimi on September 19, 2016 in Linden, New Jersey, after a bar owner reported someone sleeping in the doorway of his establishment. When police appeared, he opened fire. He faces additional criminal charges for that incident in a separate trial.