Trump implies cryptic 'calm before storm' remark was about North Korea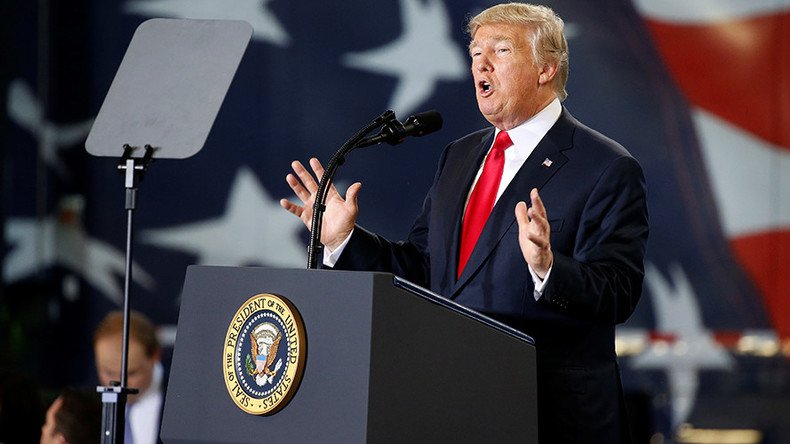 One mystery has been solved as Donald Trump implied that his "calm before storm" remark was indeed about North Korea. "We can't let this go on" with Pyongyang, he said when asked to clarify his phrase which sparked speculation in the media.
In a Fox News interview with Sean Hannity on Wednesday, the first question that Trump was asked was whether he was thinking of North Korea when he made his enigmatic comment earlier in October. "It seems related to 'Rocket Man' Kim Jong-un… in terms of them [North Korea] having nuclear capability," Hannity said.
READ MORE: 'Calm before the storm': Trump baffles White House press pool
Trump essentially confirmed that he was making the remark about Kim. However, he didn't specify the message.
"We can't let this go on. We just can't," Trump said, responding to Hannity's question.
Trump made the mysterious comment last week following his meeting with senior US military officials at the White House. When reporters arrived, the president said: "This is the calm before the storm."
"What's the storm? On Iran? On ISIS? On what?" one of the reporters asked.
"We have the world's great military people," Trump replied. "Thank you all for coming."
When asked by an NBC News reporter one more time what "storm" he had referred to, Trump said "You'll find out."
Trump blamed his predecessors for failing to curb North Korean nuclear development.

"It [the crisis] should have been handled 25 years ago, it should have been handled 20 years ago and 10 years ago, 5 years ago. It should have been handled by numerous [presidents]. Not just [ex-US President Barack] Obama," Trump exclaimed," But certainly President Obama should have taken care of it."
Trump also criticized the Agreed Framework deal between North Korea and ex-President Bill Clinton back in 1994.
"Before… the ink was dry on the contract, they were already starting again with the missiles, and with the nuclear, frankly," he said.
The deal aimed to replace North Korea's "graphite-moderated reactors and related facilities with light-water reactor (LWR) power plants."
Trump and Kim have repeatedly exchanged harsh words. On one occasion, Trump vowed to "totally destroy" North Korea if the US were attacked.
Pyongyang has responded in kind, threatening to reduce the US to "ashes and darkness" and calling for nationwide struggle against 'war-thirsty' Trump.
READ MORE: Who said it: Donald Trump or Kim Jong-un? (QUIZ)
Washington is to continue military drills in the region with its long-standing allies South Korea and Japan. Earlier in October the USS 'Ronald Reagan', with nearly 80 aircraft on board, entered the South China Sea on its way to the shores of South Korea. The drills will likely be held around October 20.
You can share this story on social media: