N. Korea urges struggle against 'war-thirsty Trump' & 'gangster-like moves for domination'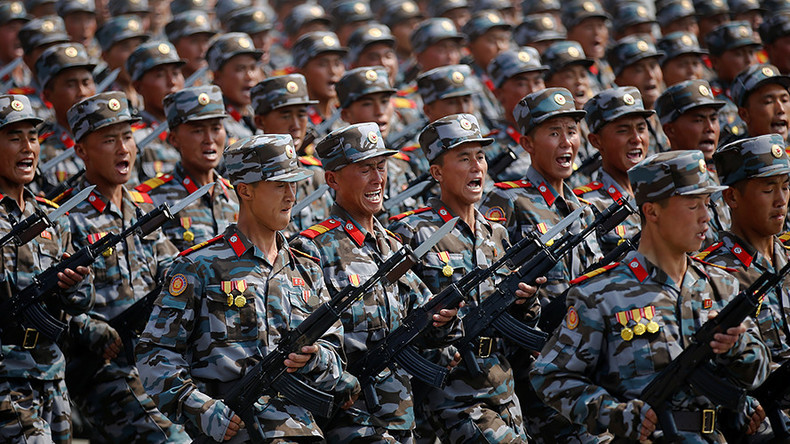 North Korea has called for a nationwide struggle against the US and its "gangster-like moves for domination and aggression." The statement comes as a US warship approaches the Korean Peninsula for drills with South Korea.
"The US gangster-like moves for domination, subjugation, aggression and war are getting evermore reckless and dangerous in the wake of the frenzy of war thirsty [US President Donald] Trump who spat out the remarks of 'total destruction of North Korea' without hesitation," a spokesman for the National Peace Committee of [North] Korea said, as cited by state-run KCNA agency.
"The pro-US traitors and confrontation maniacs in South Korea are fanning up such war hysteria of the US," the statement added.
READ MORE: US warship approaches Korean Peninsula for drills with South Korea
Pyongyang also slammed the 64-year-old "mutual defense treaty" between the US and South Korea. The treaty, signed in 1953, allows Washington to station military forces in South Korea.
The treaty is an "aggressive and traitorous war document" which helps Washington to keep its "imperialist aggression forces" in South Korea, the North said.
On Friday, the USS Ronald Reagan, with nearly 80 aircraft on board, was in the South China Sea on its way to the shores of South Korea. The military exercises will likely be held around October 20, South Korean Yonhap News agency reported
The US and South Korea will reportedly conduct joint drills to detect, track, and intercept ballistic missiles, in addition to anti-submarine warfare training.
Donald Trump and North Korean leader Kim Jong-un have been repeatedly exchanging threats recently. On one occasion, Trump said the US would "totally destroy" the North if attacked, and Kim, who he often refers to as 'Little Rocket Man,' "won't be around much longer!" Pyongyang responded in kind, threatening to reduce the US to "ashes and darkness."
In the meantime, Russia and China have repeatedly said that North Korea should freeze its nuclear and missile programs, while the US and South Korea should abstain from holding war games in the region.
On Wednesday, Russian President Vladimir Putin once again said that all sides should "ease the rhetoric and find ways for face-to-face dialogue between the United States and North Korea, as well as between North Korea and countries in the region."
"Only this would help find balanced and reasonable decisions," he added.
You can share this story on social media: