Americans pushed into pro-war frenzy by elite-controlled MSM & NATO – Max Blumenthal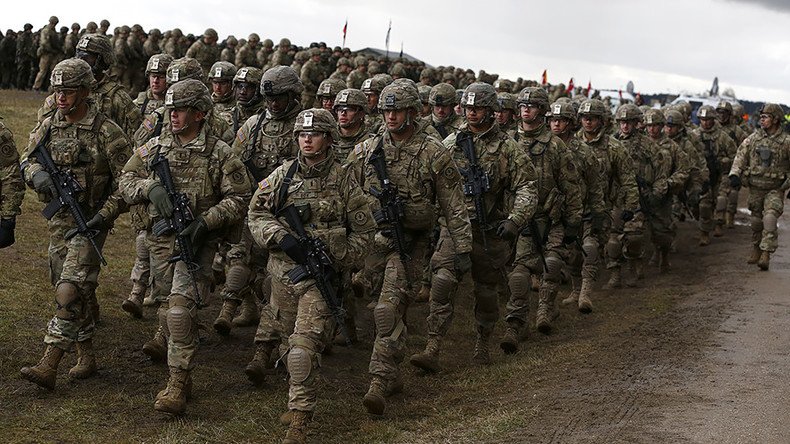 Years of Russia hysteria and North Korea fearmongering led by the US mainstream media and NATO propaganda have built support for war among Americans, making them ready to "fight and die" in overseas lands, author and journalist Max Blumenthal told RT.
READ MORE: Red Scare redux? US imposes World War II-era 'foreign agents' designation on Russia media
A recent study by the Chicago Council on Global Affairs has pointed at a shift in the collective thinking and feeling of Americans, when it comes how they view global conflict.
The study was conducted over the last two years leading up to the elections in 2016 and found that Americans seem to have found a new appetite for war.
Blumenthal, who co-hosts the "Moderate Rebels" podcast focused on US interventions and is the Senior Editor of AlterNet's Grayzone Project, spoke to RT America's Manila Chan about these developments.
RT:What do you make of this Chicago Council study?
Max Blumenthal: The Washington Post in a commentary framed these numbers as kind of the failure of Donald Trump's America First policy. And I think Trump has done a pretty horrible job selling his policy. There was a non-interventionist component that he campaigned on, which proved pretty popular, particularly in places like the Rust Belt.
However, I really think that if you look at these numbers, you should look at the internals, and look at when the poll was taken, and when the numbers started to shift. They started to shift when the election campaign began. They reflect a concerted campaign by the mainstream media and by the national security state, which has unprecedented access and control over mainstream media – particularly CNN and MSNBC – to bring the American public's views in line with the elites' [views] of our interventionist bipartisan foreign policy consensus in Washington. Two years of non-stop red-baiting, Russia hysteria, and fearmongering over North Korea have done the trick, particularly among Democrats.
READ MORE: Senate found 'zero' evidence of Trump-Russia collusion, time to do 'other things' – White House
RT:Speaking of the mainstream media, why do liberals tend to support interventionist policies at higher rates than even Republicans? It's unusual, isn't it?
MB: Yes, it is unusual. We should just talk about some of the numbers first. From 2015 to this summer we saw a 20 percent surge in the number of Americans who would support sending troops to defend South Korea. We also see, for the first time in history, a majority of Americans willing to send US troops to fight and die for Latvia against Russia, and that is a reflection of their support for NATO.
Liberals disproportionately support these militaristic policies, which seem to suggest support for a hot war with Russia, and even hot war with China. It would be disastrous if they took place. So why didn't that take place? Because of the partisan war against Trump, who has been portrayed as an enemy of NATO – even though he is now as supportive of NATO as ever; as someone who is a Manchurian candidate of Russia, who is controlled by Putin's nine-dimensional chess and has colluded with Russia. So, Democrats tend to see Russia in a negative light, and they support interventionist policies.
But if you also look at CNN and MSNBC versus Fox News, which is the de-facto channel of the Republican Party and Trump, you see non-stop contributors from the national security state – like James Clapper, Michael Hayden, the former CIA director – pushing these kinds of militaristic policies. So, these are the channels that Democrats watch. Their media, including the Washington Post and the New York Times, has really stepped up the fearmongering and militarism.
So, you see a total reversal from the Bush period, the Bush era – when Democrats were staunchly against the Iraq war, because it was Bush's war. And now you see the people that are against guns that are against mass shooting – favoring pointing guns and committing mass shootings abroad.
RT:How do you view the posture of the American people on defending eastern European countries like Lithuania and Latvia, who are members of NATO?
MB: In 2014, Victoria Nuland, Assistant Secretary of State, wife of the neo-conservative Robert Kagan, said that Americans were ready to fight and die for Latvia. That wasn't true at the time. Now it is. These attitudes have been manufactured.
They've been partly manufactured by NATO propaganda. We heard at lot – especially on CNN from figures like Jake Tapper, "Deep State Jake," who almost every show is pushing regime change in one of the non-compliant states. We heard a lot about the Zapad [West] military exercises, thinking Romania, where Russia was said to have amassed 100,000 troops on NATO borders – even "Democracy Now!" reported that.
It turns out that Jens Stoltenberg, the head of NATO, was pushing this lie – that there will be 100,000 troops. I think less than 10,000 troops in the end appeared for these military exercises. This was supposed to terrify the states. It was absolute blaster and pro-war propaganda. We've seen that reflected in these attitudes.
You can share this story on social media: