Majority of Americans support attack on North Korea if it strikes South – poll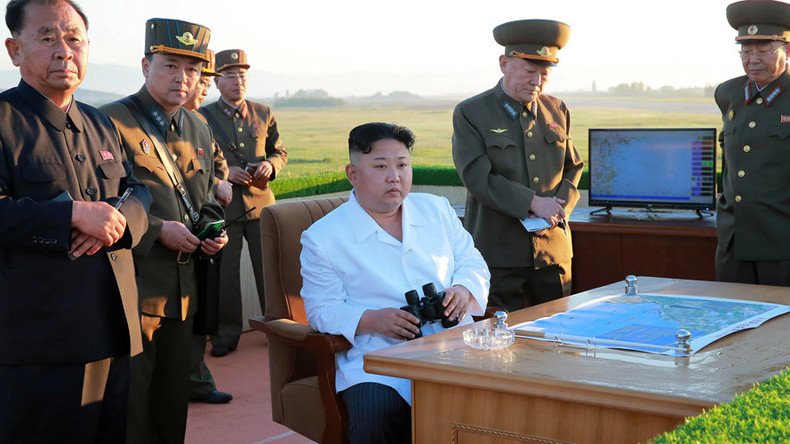 The majority of Americans support using US troops to defend South Korea in the event of an attack by the North – for the first time in 27 years of polling on the issue, according to the Chicago Council on Global Affairs.
Americans' support for military action against North Korea grew from 47 percent two years ago to 62 percent in the council's latest poll.
However, the survey found that a preemptive attack against North Korea's nuclear program does not have wide support. Overall, 28 percent of Americans favor sending US troops to destroy North Korea's nuclear facilities and 40 percent favor conducting airstrikes against its nuclear production facilities, according to the Chicago Council on Global Affairs.
"Military action carries with it the very real risk of retaliation and escalation, and as in past surveys, lacks public support," the group wrote.
The same study says that while sanctions have yet to curb North Korea's nuclear program, increasing restrictions is the option that receives the most support from the American public – 76 percent.
On August 5, the UN Security Council unanimously agreed to impose more restrictive measures against Pyongyang, banning exports of coal, iron, lead and seafood.
The move came in response to North Korea's latest missile launches in July, which it, as well as South Korea and the US, claimed were intercontinental ballistic missile (ICBM) tests. It was the UN's seventh round of sanctions in 11 years.
Speaking at a Security Council meeting, the US envoy to the UN, Nikki Haley, said the new resolution is the hardest package of sanctions against any country.
Washington "is taking and will continue to take prudent defensive measures to protect ourselves and our allies" from the North Korean threat, Haley said.
Even though the US, Russia and China – permanent members of the UN Security Council – are on the same page when it comes to trying to stop North Korea's nuclear and missile programs and to get it to return to a non-proliferation regime, they differ on what will eventually work in achieving that outcome.
Having voted to impose the sanctions on Saturday, Russia's envoy to the UN nonetheless criticized the drills that the US and South Korea regularly conduct in the region, saying that such actions also destabilize security on the Korean Peninsula.
In the wake of the vote, Russian Foreign Minister Sergey Lavrov reiterated the joint Russian-Chinese initiative for "double freezing" which had previously been rejected by the US.
The initiative, put forward by the Russian and Chinese foreign ministers on July 4, would freeze "any missile launches and any nuclear tests in North Korea," as well as "large-scale military exercises by the United States and South Korea," Lavrov said.
The Trump administration has sought to put pressure on China, claiming that Beijing could stop North Korea if it wanted to, through blocking all economic transactions with its neighbor.
I am very disappointed in China. Our foolish past leaders have allowed them to make hundreds of billions of dollars a year in trade, yet...

— Donald J. Trump (@realDonaldTrump) July 29, 2017
...they do NOTHING for us with North Korea, just talk. We will no longer allow this to continue. China could easily solve this problem!

— Donald J. Trump (@realDonaldTrump) July 29, 2017
In June, the Trump administration imposed sanctions on two Chinese citizens and a shipping company for allegedly helping North Korea's nuclear and missile programs and accused a Chinese bank of laundering money for Pyongyang.
Chinese Foreign Ministry spokesman Lu Kang responded by saying China consistently opposes unilateral sanctions imposed outside the UN framework.
"We strongly urge the United States to immediately correct its relevant wrong moves to avoid affecting bilateral cooperation on the relevant issue," he said in June.
You can share this story on social media: