State Dept approves $113mn sale of air-to-air missiles to Japan amid N Korea tensions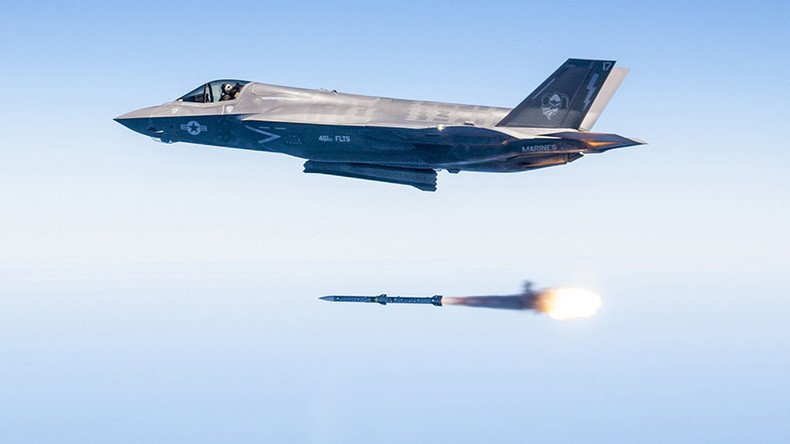 The US State Department has approved the sale of $113 million-worth of US-made air-to-air missiles known as AMRAAMs to Japan, as war talk between Pyongyang and Tokyo heats up.
The weapons package is expected to include up to 56 AIM-120C-7 Advanced Medium-Range Air-to-Air Missiles (AMRAAM), manufactured by Raytheon in Tucson, Arizona. The final sale, however, has yet to be negotiated between the US and Japanese governments, Defense News reported.
This week, the Pentagon's Defense Security Cooperation Agency notified Congress about the potential sale, DSCA said in a statement.
The AMRAAM missiles can be carried by a wide range of fighter jets to shoot down targets in the air.
"There will be no adverse impact on US defense readiness as a result of this proposed sale," DCSA said in its statement. However, Defense News reported that Raytheon is currently struggling to fill US demands for the AMRAAM due to difficulties in refreshing components that are becoming obsolete.
The proposed sale comes as the United States and North Korea exchange threats of mutual destruction, with the latter saying it may target US allies in the region South Korea and Japan.
Japan's campaign to put pressure on North Korea to relinquish its nuclear program is a "suicidal deed" that will bring "nuclear clouds" to the country, said a commentary released by the North's state-controlled news agency this week, according to the Independent.
"What is needed is not dialogue, but pressure," Japanese Prime Minister Shinzo Abe said at the UN General Assembly in September, as he urged the international community to abandon attempts at dialogue with the North. "For North Korea, dialogue was instead the best means of deceiving us and buying time," he said.
North Korea had carried out a series of nuclear tests over the past few months, in response to which the UN Security Council imposed several rounds of biting sanctions against Pyongyang.
Having approved the sanctions and condemned the North's nuclear tests, UNSC permanent member Russia has urged all sides to cool down their rhetoric and engage in dialogue.
"All sides must ease the rhetoric and find ways for face-to-face dialogue between the United States and North Korea, as well as between North Korea and countries in the region," Russian President Vladimir Putin said Wednesday. "Only this will help in finding balanced and reasonable decisions."
"We've been clear that now is not the time to talk," White House spokeswoman Sarah Huckabee Sanders told reporters Tuesday.
"The only conversations that have taken place were that... would be on bringing back Americans who have been detained," Sanders said. "Beyond that, there will be no conversations with North Korea at this time."
As the standoff continues between the North on the one side and the US and its allies on the other, a new study estimated that up to 2.1 million people would be killed if Pyongyang launched a nuclear attack on Seoul and Tokyo.
The report's author, Michael J. Zagurek Jr., said that "history is replete with 'rational actors' grossly miscalculating, especially in crisis situations," and that another nuclear or missile test might trigger a hostile reaction from the United States, prompting a nuclear strike from the North Korean regime.
You can share this story on social media: