US Senate pressures social media over 'foreign ads' as it hunts for 'chaos-creating Russians'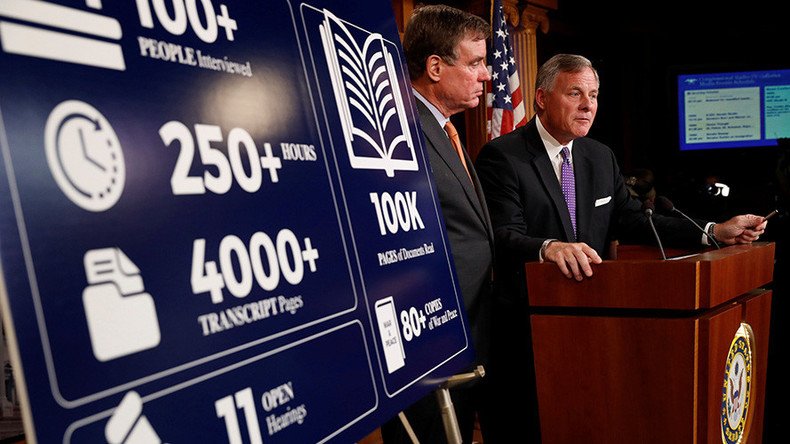 Facebook, Google and Twitter need to tell Americans what they will do to make sure ads paid for by "foreign entities" like Russia are labeled as such, the senior Democrat on the Senate Intelligence Committee said ahead of a public hearing with the social media giants.
Americans need to know whether a source of an ad on social media is a foreign entity, and whether it was generated by real individuals rather than false accounts, Senator Mark Warner (D-Virginia), ranking member of the Senate Intelligence Committee, said at a news conference Wednesday.
Warner and committee chairman Richard Burr (R-North Carolina) told reporters about progress in their months-long investigation into Russia's alleged interference in the US election.
The social media giants did not take the threat of "the Russians' use of social media platforms seriously," but now they do, Warner told reporters, as the three firms are preparing to testify before the committee on November 1.
This week, Facebook announced it is increasing authenticity requirements for advertisers, adding over 1,000 people to its ad review staff after claiming it found paid postings on "divisive" social issues that "appeared" to stem from a "Russian entity."
Earlier, the company had delivered to Congress some 3,000 ads which it assessed were "likely" run from Russia.
"If you look solely at the social media advertising that we have seen, there's no way you could look at that and say that was to help the right side of the ideological side and not the left, or vice versa. They were indiscriminate," Burr said, somewhat contradicting the US intelligence community's assessment that Moscow tried to help President Donald Trump get elected.
"It seems that the overall theme of the Russian involvement in the US election was to create chaos at every level," Burr added.
Congress will not share the ads publicly, the senator said. Citing "people familiar with the investigation," however, the Washington Post said on Tuesday that one ad featured a picture of a black woman firing a rifle. Other ads had "harsh language and imagery about illegal immigrants" and "highlighted civil rights groups such as Black Lives Matter," according to the Post.
On Wednesday, Facebook took out a full-page ad in the New York Times and the Washington Post, vowing to "fight any attempt to interfere with elections or civic engagement." Strengthening its ad policies and expanding partnerships with election commissions are some of the "immediate" actions that the company says it's taking.
"Trump says Facebook is against him. Liberals say we helped Trump. Both sides are upset about ideas and content they don't like," Facebook's head Mark Zuckerberg said last week, after his company was criticized by both the president and his critics.
"Campaigns spent hundreds of millions advertising online to get their messages out even further. That's 1,000 times more than any problematic ads we've found," Zuckerberg added, referring to the 3,000 ads which the company says "appear" to be linked to Russia.
This week, Facebook added that 56 percent of the alleged "Russian" ads were displayed after the November 8, 2016 election. The company also estimated that overall they were seen by 10 million people in the US, which has some 200 million legal voters.
Moscow has repeatedly denied any interference in the US election.
'No findings'
The committee "trusts the conclusions" of the assessment published by the leading US intelligence agencies in the last days of the Obama administration, but has not yet closed considerations of it, Burr said.
"We will come out with a finding at some point, and a recommendation of the changes we need to make," said the North Carolina senator.
"The committee continues to look into all evidence to see if there was any hint of collusion," Burr said referring to allegations that the Trump campaign worked together with Moscow. "Now, I'm not even going to discuss initial findings because we haven't any."
Burr noted that the committee "hit a wall" in terms of examining the infamous "dossier" written by former British spy Christopher Steele, alleging all sorts of connections between Trump and the Russian government. Without examining the sources and the funding for the dossier, "the committee couldn't consider the credibility" of it, Burr said.
Steele has declined to testify before the US Congress, and he cannot be forced to do that because he's not American.
You can share this story on social media: