Tom Petty dies of heart attack at 66 – manager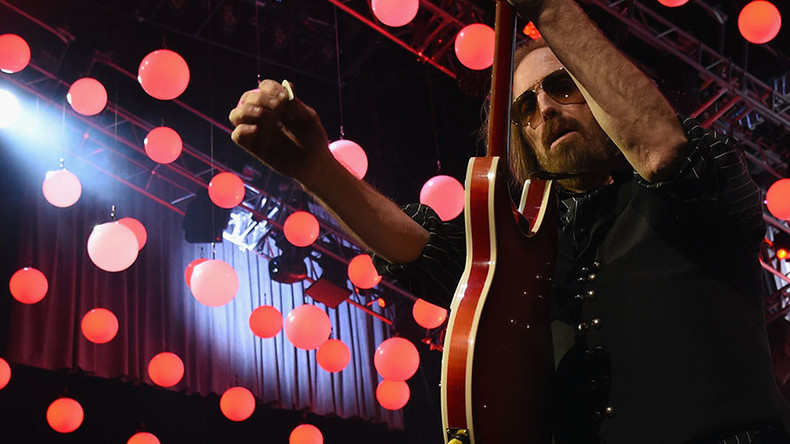 The manager of Tom Petty has confirmed that the Rock and Roll Hall of Famer died after being rushed to hospital having suffered a heart attack Monday night. The statement follows hours of media speculation, which led to unverified reports, family responses and retractions.
"On behalf of the Tom Petty family we are devastated to announce the untimely death of our father, husband, brother, leader and friend Tom Petty," the singer's long-time manager Tony Dimitriades said in a statement, issued late Monday.
The manager said 66-year-old Petty "suffered cardiac arrest at his home in Malibu in the early hours of this morning and was taken to UCLA Medical Center but could not be revived."
The rocker passed away at 8:40pm PT [3:40am GMT] "surrounded by family, his bandmates and friends," the statement reads.
TMZ was first to report Monday afternoon that Petty was rushed to hospital in critical condition after he was found unconscious and in full cardiac arrest Sunday night. However, it later retracted its report, saying that the singer was "still clinging to life."
"We're told after Petty got to the hospital he had no brain activity and a decision was made to pull life support," TMZ had said.
The confusion surrounding the singer's health status began when CBS published Petty's obituary citing the LAPD as the source confirming his death.
The LAPD said on Twitter that it "has no information about the passing of singer Tom Petty. Initial information was inadvertently provided to some media sources."
"However, the LAPD has no investigative role in this matter. We apologize for any inconvenience in this reporting."
Several hours later, Tom Petty's daughter, Annakim Violette, posted a message on Instagram, chastising Rolling Stones magazine for reporting her death of her father.
"My dad is not dead yet but your f***ing magazine is," Violette wrote."How dare you report that my father has died just to get press because your articles and photos are so dated."
Hollywood Walk of Fame producer Ana Martinez said that a previously-announced wreath ceremony for Petty's star was canceled after the retractions. The organization said the ceremony would be canceled until they receive further confirmation that he has passed from Petty's team or a coroner.
The 66-year-old was best known as lead singer of Tom Petty and the Heartbreakers. However, he also had several hit singles as a solo artist and was a founding member of the late 1980s supergroup the Travelling Wilburys.
Petty was on tour with the Heartbreakers and performed a show in Los Angeles last Monday to mark the 40 year anniversary of the band. He was scheduled to play two gigs in New York in early November.
Petty's music is considered an enduring part of the American rock canon. Amongst his biggest hits are Free Fallin', I Won't Back Down and Learning to Fly.
He was inducted into the Rock and Roll Hall of Fame in 2002.