US has direct channels of communication with Pyongyang, not 'blackout' situation - Tillerson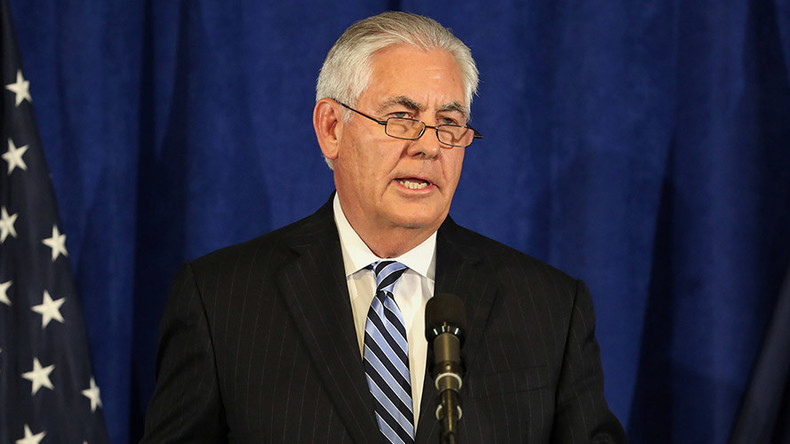 Washington has direct channels to communicate with Pyongyang, there's no 'blackout' situation according to the US State Secretary Rex Tillerson.
The US is "probing" North Korea to see if it is interested in dialogue, Tillerson told reporters during his visit to China on Saturday.
"We are probing, so stay tuned," Reuters cited Tillerson as saying. "We ask: Would you like to talk? We have lines of communications to Pyongyang. We're not in a dark situation."
Tillerson met Chinese President Xi Jinping and other officials on Saturday in preparation for the anticipated November visit to China of US President Donald Trump.
While the US has open communication channels with North Korea, Pyongyang has not shown any interest in denuclearization so far, the US State Department said Saturday following Tillerson's remarks.
"Despite assurances that the United States is not interested in promoting the collapse of the current regime, pursuing regime change, accelerating reunification of the peninsula or mobilizing forces north of the DMZ, North Korean officials have shown no indication that they are interested in or are ready for talks regarding denuclearization," State Department spokeswoman Heather Nauert said.
The US sees China, the main trade partner for North Korea, as the primary force able to pressure Pyongyang into complying with the UN Security Council resolutions and curbing its nuclear and missile programs.
"We are working closely with China to execute this strategy and are clear-eyed in viewing the progress – growing, if uneven – that China has made on this front," State Department Assistant Secretary Susan Thornton said Thursday. "We do see Chinese policy shifting."
While Donald Trump and Kim Jong-un have been exchanging bitter personal insults and threatening each other with military action, China and Russia have been trying to ease tensions between the two states. Moscow and Beijing have long proposed a 'double-freeze' plan, in which Pyongyang suspends its nuclear and ballistic missile programs in exchange for a halt in joint US-South Korea military exercises. The US, however, has firmly rejected the proposal.
Top Russian and North Korean diplomats met in Moscow on Friday and "exchanged views on the current situation on the Korean peninsula and in north-east Asia." The meeting behind closed doors between Oleg Burmistrov, Russia's ambassador-at-large, and Choe Son-hui, director-general of the North American Department of North Korea's Foreign Ministry, lasted some five hours.
The US State Department praised Moscow's diplomatic efforts, stating that it "can't see [the meeting] as a bad thing."
"Diplomacy is our preferred approach. If Russia can be successful in getting North Korea to move in a better direction, we would certainly welcome that," US State Department spokesperson Heather Nauert told journalists on Thursday.