Behind closed doors: Top N. Korean diplomat arrives in Moscow for talks (VIDEO)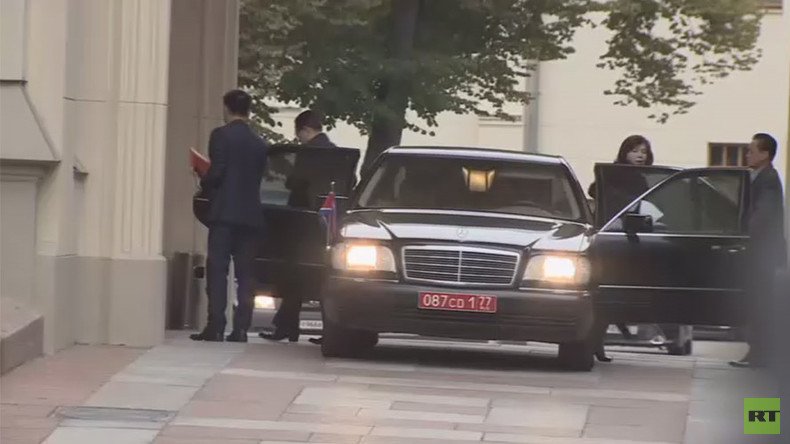 Russian and North Korean diplomats have met in Moscow to discuss the Korean Peninsula crisis. Moscow reiterated its willingness to work with Pyongyang towards a peaceful resolution to the crisis, the Russian Foreign Ministry said following the talks.
Oleg Burmistrov, Russia's ambassador-at-large, met Choe Son-hui, director-general of the North American Department of North Korea's Foreign Ministry in the Russian capital on Friday. They met behind closed doors.
The officials "exchanged views on the current situation on the Korean peninsula and in north-east Asia," the statement from the ministry said.
According to the ministry, Russia is ready to join efforts and "find ways to solve the problems existing in the region by peaceful, political and diplomatic means."
Moscow once again said that it is necessary to implement a 'double-freeze' plan, which it advocates together with China. According to the plan, Pyongyang would suspend its nuclear and ballistic missile tests in exchange for a halt in joint US-South Korean military exercises. However, the US has repeatedly rejected the proposal.
The talks lasted for almost five hours, RIA Novosti's correspondent reported from the scene.
Commenting on the issue on the eve of the meeting, Heather Nauert, US State Department spokesperson, said that Washington "can't see that as a bad thing."
"Diplomacy is our preferred approach. If Russia can be successful in getting North Korea to move in a better direction, we would certainly welcome that," she told journalists on Thursday.
The Moscow talks come as North Korea and the US continue to exchange barbs, threatening military responses.
In one of his latest statements on the crisis, US President Donald Trump said that Washington was prepared to strike North Korea if necessary with "devastating" consequences for the country.
On Sunday, North Korea released a doctored video in which a missile "destroys" US B-1B and F-35 jets, while a submarine targets America's aircraft carrier USS 'Carl Vinson.'
Russia and China are attempting to ease tensions between the states, calling for dialogue and stating that military options should be ruled out. They have long been pushing for a 'double-freeze' plan, in which Pyongyang suspends its nuclear and ballistic missile tests in exchange for a halt in joint US-South Korea military exercises. However, the US has rejected the proposal.
You can share this story on social media: