Alarming graphic predicts radioactive aftermath of N. Korean nuclear launch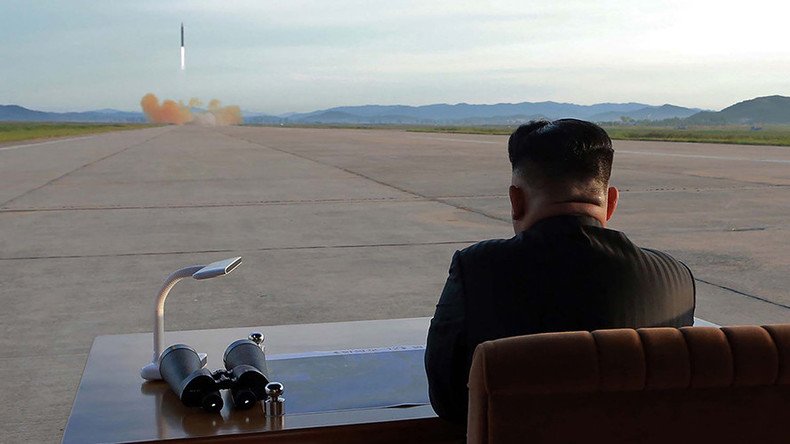 In "response to inquiries," a graphic has been posted online showing the expected range of a radioactive cloud resulting from a North Korea-launched nuclear bomb over the Pacific Ocean. While quite alarming, it was found too rough by some users.
The simulation was posted on Twitter by Lassina Zerbo, the head of the Comprehensive Nuclear Test Ban Treaty Organization, which is tasked with monitoring weapons tests.
Zerbo called it a "rough simulation" of a "radio-isotope cloud" from a "hypothetical atmospheric burst" over the Pacific.
The graphic did not provide supporting data, nor the threat that such a cloud could pose to human health. Zerbo later clarified that it was "simply a rough simulation" that he posted in response to inquiries.
Some people weren't happy with the post, with one person calling it "misleading" and saying that "folks will interpret [it] as cataclysmic."
A Harvard PhD professor said that people "will confuse it with the kinds of fallout clouds they are used to reading about, the 'take shelter for 2 weeks' kind."
It comes as Washington and Pyongyang continue their war of words, with President Donald Trump vowing"devastation" for North Korea on Tuesday, should the US decide to pursue a military option to deal with the crisis.
His warning came after North Korean Foreign Minister Ri Yong-ho told the UN General Assembly (UNGA) in New York that Trump's insults against leader Kim Jong-un make "our rocket's visit to the entire US mainland inevitable."
According to Ri, the "most powerful detonation of an H-bomb" would be one possible "highest-level" action against the US.
READ MORE: 'New global threat': IAEA anxious over 'rapid progress' of N. Korean nuclear program
"It could be the most powerful detonation of a hydrogen bomb in the Pacific," Ri told Yonhap while in New York. "We have no idea about what actions could be taken, as it will be ordered by leader Kim Jong-un."
H-bombs, or hydrogen bombs, are thermonuclear weapons which are more powerful than fission-based atomic bombs. You can read about them in more detail here.
Responding to Ri's comments at the UNGA, Trump posted on Twitter that the North Korean leadership "won't be around much longer," while calling Kim "Little Rocket Man."
North Korea is believed to have conducted six nuclear tests, with the latest viewed as the most powerful. Monitoring groups estimate the September 3 test was 16 times the size of the bomb that destroyed Hiroshima, Japan, in 1945.
The United Nations has implemented sanctions against Pyongyang in response to the tests. The sanctions include capping crude oil supplies to North Korea at present levels and reductions in other commodities. They also include banning textile imports.
READ MORE: N. Korea says 4.7mn volunteer for military after Kim vows to 'tame' Trump with 'fire'
Earlier this week, the Trump administration announced additional sanctions against eight North Korean banks and 26 individuals who the US says act as the banks' representatives in various countries.
Meanwhile, Russian Foreign Minister Sergey Lavrov urged all parties to stick to a diplomatic approach to the crisis last week, saying "we have to calm down the hotheads and understand that we need pauses, we need contacts."
Russia and China have both called on all sides to avoid escalation of the crisis, and have devised a double freeze plan which would see North Korea suspend its nuclear and ballistic missile tests in exchange for a halt in joint US-South Korea military exercises. That plan, however, was promptly rejected by Washington.
You can share this story on social media: