Inside 'Antifa': Undercover video purports to show group plotting violence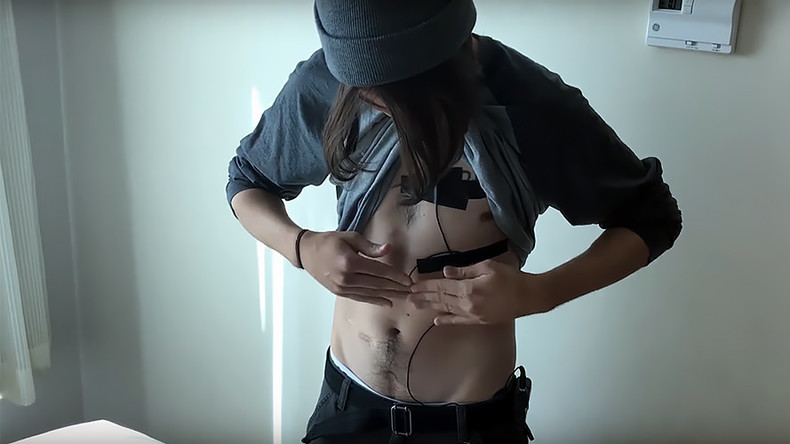 Conservative comedian and commentator Steven Crowder says he and his producer have infiltrated the secretive 'Antifa' movement and recorded video showing how its members prepared activists for violence at a protest.
Crowder, a comedian, podcast host and former Fox News contributor, released the 11-minute video allegedly exposing Antifa, a self-proclaimed group of anti-fascists, of plotting an attack against those who attended an event with conservative speaker Ben Shapiro at the University of Utah Wednesday.
The video appears to show a woman, who Crowder claims is a transgender Antifa member, giving the commentator's undercover associate a knife and some instructions.
"Plain clothes, hard tactics, I don't think they'll know what hit them. Because they're not prepared for what we're planning," the alleged Antifa organizer says at one point.
In another frame of the video, she says, "I've got a handgun. Yeah, we got two AK's coming." Then the footage cuts to her saying, "Do what you gotta do."
The way the footage is edited makes it difficult to understand the context in which the statements were made.
"'Do what you gotta do' can include violence against anyone you call a Nazi. They call Ben Shapiro a Nazi," Crowder said. Shapiro, who is Jewish, is the founder and the editor-in-chief of the conservative website the Daily Wire. His recent appearances at UC Berkeley and other university campuses drew protests, with demonstrators labeling him a "fascist."
Crowder's footage also includes audio recording of an alleged Antifa supporter who goes by the pseudonym Clark, saying the difference between Antifa and other activist groups is a "willingness to respond with violence."
Crowder said he gave the footage of his undercover operation to police and that they were "grateful." He also criticized some mainstream media journalists who were apparently not interested in his material.
Antifa derives its name from the word 'anti-fascist'. Most of its members choose to hide their identities and can be seen during protests wearing all-black clothing with masks on their faces. This year, they were seen engaging in riots at a number of protests, including on President Donald Trump's Inauguration Day in Washington DC, where over 200 people were arrested.
Riots involving the black-clad activists led to the cancellation of right-wing media personality Milo Yiannopoulos' scheduled speech at Berkeley in February. In late August, masked Antifa and other protesters attacked people at a 'No to Marxism' rally, also in Berkeley. The event was canceled and 13 people were arrested. Six people were injured during the melee, two of whom were taken to hospital.
Antifa protesters were also among those who confronted a white nationalist rally in Charlottesville, Virginia in mid-August, which resulted in violent clashes. Trump was scolded by many mainstream media outlets for saying that the so-called 'Alt-left' was also to blame for the violence, specifically mentioning Antifa.
A host of pundits claimed that Trump's statement gave white supremacists an excuse for their beliefs and actions, even though the president repeatedly denounced their racist views.
Many Antifa supporters also rally against corporations and elites, and what they call an authoritarian government. A recent Washington Post article described them as "factions of the far left who feel they are not represented by the mainstream Democratic Party."
You can share this story on social media: