At least 13 arrested as 'antifa' and anarchists shut down Berkeley anti-Marxist rally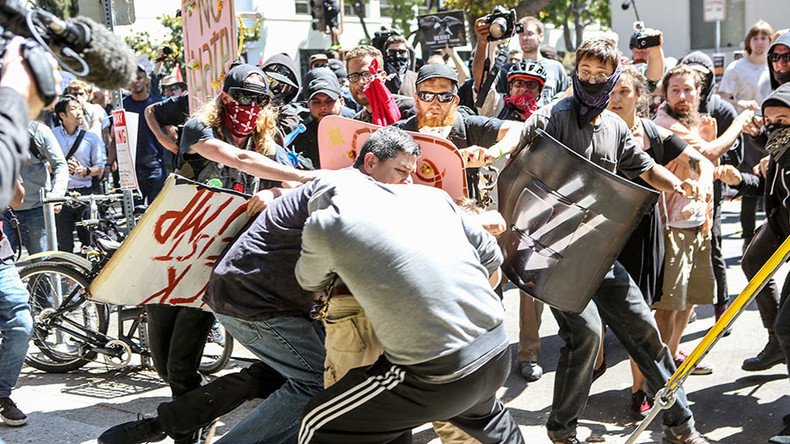 A 'No to Marxism' rally in Berkeley, California was canceled as thousands of counter-protesters showed up and threatened the organizers. Police allowed masked 'antifa' and anarchist activists to enter the public park, and arrested 13 people after violence broke out.
Most of the suspected offenders were arrested for bringing banned items into the rally zone, the San Francisco Chronicle reported, citing Berkeley police spokeswoman Jennifer Coats.
Six people required medical attention over injuries during the event, including two who were sent to a local hospital for treatment.
White smoke was seen on the scene, believed by local media and some eyewitnesses to be tear gas, as the two sides clashed in the university city.
Berkeley, a university town on the eastern shore of San Francisco Bay, had been set to host a "No To Marxism in America" rally of right-wing activists at the Martin Luther King Civic Center Park Sunday.
"Antifa" and other activists then called for a counter-demonstration, billed as a "Rally Against Hate."
"No to Marxism" organizer Amber Cummings subsequently cancelled the rally, saying Berkeley officials and left-wing extremists had made it impossible for the event to go ahead, local TV station KCRA reported. Cummings urged people to stay away from the park.
Several right-wing activists decided to show up anyway, as did a crowd of "antifa" and counter-protesters, who assembled in various parts of Berkeley, with more than 1,000 people congregating on Oxford Street alone, the LA Times reports.
Footage from the scene shows huge crowds of counter protesters chanting slogans including "Nazis go home" and "No hate, no fear, Nazis get out of here."
Around the time the right-wing rally was scheduled to begin, hundreds of masked, black-clad activists - some of them carrying shields - tried to make their way into MLK park, and the police took a decision to allow them in.
"We made a strategic decision to move our officers," said Coats, the Berkeley police spokeswoman. "We also want people to freely assemble."
Several altercations took place and eight arrests were made, according to KCRA. Three of the arrests were reportedly for violations of the no-mask rule.
In one incident, Joey Gibson, the leader of the conservative group Patriot Prayer, was chased, beaten and pepper-sprayed before police could intervene.
In another instance, a group of activists surrounded a man who was holding a sign reading "God Bless Donald Trump" and chanted: "Not my president."
Johnny Benitez, an Orange County resident involved in organizing an "America First" rally in Laguna Beach, was escorted from the park by police.
He later tweeted that unless the federal government deals with "terrorists," as he called the "Antifa" activists, "the patriots of this country need to prepare for war."
RT's Ruptly agency's feed from the scene was abruptly cut off after masked protesters approached the camera and demanded the crew "move that thing." A brief tussle is then heard before the live feed is lost.
A Ruptly producer, who was heard telling the protesters to back off, later reported that the camera was damaged and they had to cancel the feed.
You can share this story on social media: