Police chiefs stage their own protest against NFL players
Published time: 26 Sep, 2017 22:03
Edited time: 11 Apr, 2018 12:27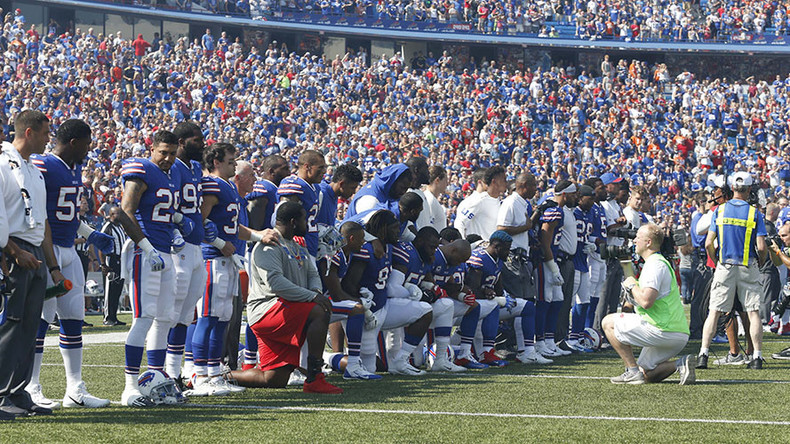 Police chiefs are unimpressed with the NFL players "taking a knee" in protest over police brutality and have warned their officers not to participate, while threatening to burn NFL merchandise and boycott security.
The Chicago Police Department promised to reprimand two black officers who were shown in a Instagram post kneeling with anti-police brutality activist, Aleta Clark. The post went viral with over 2,000 likes.
"We are aware of the photo and we will address it in the same way we have handled previous incidents in which officers have made political statements while in uniform, with a reprimand and a reminder of department policies," the police told the Chicago Tribune.
On Sunday, roughly 200 NFL players took the knee or stayed in their locker rooms during the pregame national anthem, in protest against police brutality. The perceived insult to the national symbols is causing backlash among the law enforcement.
The Sheriff of Hartford County, Maryland, Jeffrey Gahler, plans to burn all of his Baltimore Ravens merchandise, calling the NFL an "embarrassment" due to the national anthem demonstrations, according to the Baltimore Sun.
The Sheriff of Geauga County in Ohio has barred his deputies from working off-duty security at future Cleveland Browns games because of their protest during the national anthem, according to the Cleveland Plain Dealer.

"I'm concerned when the main act stands in front of the crowd, before the game even starts, and commits a blatant disrespectful act towards our flag, our country, our veterans and our first responders," Sheriff Scott Hildenbrand said in a Facebook post. "If they do not have respect for us and our country only bad things will come of that. We will not be part of these activities."
About 20 Browns players went down on one knee during the national anthem prior to Sunday's game in Indianapolis. Some Colts fans jeered the players.
Sheriff Hildenbrand said he is a season ticket-holder but will not be attending Browns games for the rest of the season, according to the Plain Dealer.
The protest, which was started last year by then-San Francisco 49ers quarterback Colin Kaepernick to highlight racial inequality and injustice in the US, had received sporadic support from fellow players prior to US President Donald Trump's appearance at a rally in Alabama last Friday.
Addressing the crowd, Trump lambasted Kaepernick's protest, saying: "Wouldn't you love to see one of these NFL owners, when somebody disrespects our flag, to say, 'Get that son of a bitch off the field right now. Out! He's fired!'"
NFL players and owners reacted by criticizing the president's remarks, which resulted in many more of the league's players taking up the #TakeAKnee protest over the weekend. Three teams remained in the dressing room during the anthem.
Restaurants across the US are already refusing to show NFL games in response to the decision, however.
Various outlets in Louisiana, Texas, New York and South Carolina have all said that it will no longer be showing the games, with one restaurant, Borio's in upstate New York, posting a notice on its doors that read: "If and when this show of disrespect ends we will be happy to show this product in our restaurant again."