Soldier used TV show 'Cops' to learn to train Afghan police – watchdog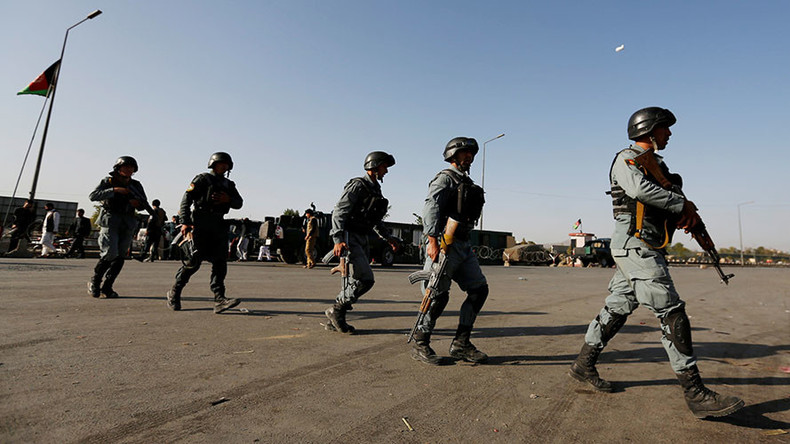 A government watchdog tasked with studying the effects of reconstruction in Afghanistan finds US forces to be ill-equipped to train the Afghan National Police. One military official even used "Cops" to learn law enforcement techniques.
The title of the critical review, issued by the special inspector general for reconstruction (SIGAR), is "Reconstructing the Afghan National Defense and Security Forces: Lessons From the US Experience in Afghanistan." It is the second in a series of reports focused on lessons learned in the country. SIGAR started the lessons learned program in late 2014.
John Sopko, the special inspector general for reconstruction (SIGAR) in Afghanistan who released the review Thursday, is tasked with investigating the United States' efforts to build security forces in Afghanistan, as well as to point out the flaws leading to failures in the mission.
Sopko explained that he and his team spoke with a US military officer who claimed to have watched "NCIS" and "Cops" to learn about techniques to teach Afghan police officers, according to the review.
In two other instances, Sopko and his team also met a US Army helicopter pilot assigned to teach policing, and uncovered a US police-training unit designed as a military unit, and another military unit designed as a police unit.
"You should have police or people with police backgrounds teaching police," Sopko said. "And it is silly to have a really well-trained Army helicopter pilot teaching police. That just doesn't make sense. You've got to align it."
In another example of a communication breakdown among US troops training Afghan forces, Sopko said US officials used unreliable PowerPoint presentations focusing on US-NATO Balkan operations in training sessions with Afghan Police.
"The presentations were not only of questionable relevance to the Afghan setting, but also overlooked the high level of illiteracy among the recruits," he said. "Such cut-and-paste activities lifted from one country and slapped onto another like a decal are not likely to boost the prospects of overall success."
READ MORE: 'Unlimited war' and transgender troops: Amendments seek limits to military spending bill
Four years after the withdrawal of US troops in Iraq, the Islamic State (IS, formerly ISIS/ISIL) rose to power and secured a 100-year-old colonial border in the Middle East, taking control of millions of people in Iraq and Syria at the dismay of US trained Iraqi forces. IS has even overcome its former partner, Al-Qaeda, as the world's most important jihadist group in terms of recruitment and reach. Many attribute the eventual rise of IS to poor training by US forces before they departed the war torn country in 2011.
After the destabilization of Iraq and Syria, the review offers a chilling statement about the readiness of US forces to handle the highly important task of training Afghan forces.
"The U.S. government is not well organized to conduct large-scale security-sector assistance missions in post-conflict nations or in a developing world," Sopko said, according to the review. "Our doctrines, policies, personnel and programs are insufficient to meet security-sector assistance mission requirements and expectations."
In September, President Donald Trump's administration decided to send 3,500 additional US troops to fight in Afghanistan, which stands as the longest running war in US history.
You can share this story on social media: