3,500 US troops headed to Afghanistan – report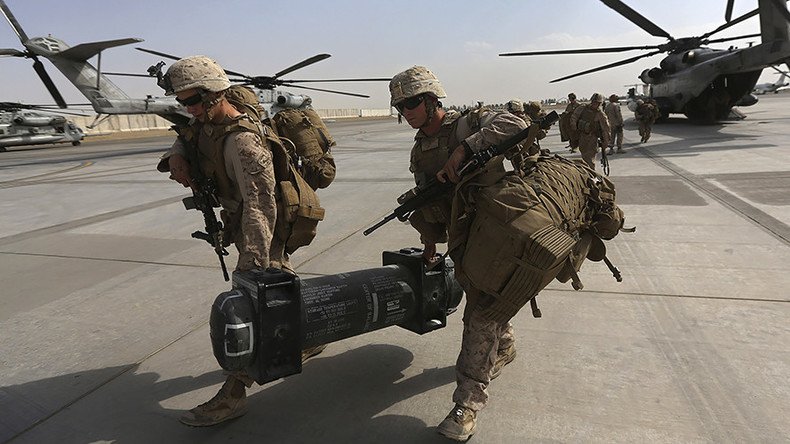 President Donald Trump's insistence that he will not disclose troop numbers in Afghanistan has apparently not stopped unidentified US officials from telling Reuters that 3,500 additional US soldiers will soon head to the country.
The Pentagon has yet to officially announce how many more troops the US will be sending to fight America's longest war. Last week, Defense Secretary Jim Mattis signed orders to send additional forces to Afghanistan but did not specify numbers, saying he first needed to brief Congress.
If confirmed, the new deployment would bring the total number of US troops in the country to about 14,500.
Last month, Trump announced his administration's strategy in Afghanistan would be driven by objectives, not timetables.
"Conditions on the ground – not arbitrary timetables – will guide our strategy from now on. America's enemies must never know our plans or believe they can wait us out," Trump said.
As a presidential candidate, Trump had lamented the war's high cost, and in previous years had indicated support for a withdrawal from the conflict-ridden country.
The president recently said the American troops in Afghanistan "will fight to win."
Critics have suggested that America's involvement in Afghanistan may stretch on indefinitely. Some US officials, speaking on condition of anonymity, have questioned the benefit of sending more troops to Afghanistan "because any politically palatable number would not be enough to turn the tide, much less create stability and security," Reuters reported.
"That's not going to make much difference compared to the much larger number of troops we had there years ago, which did not obviously solve the problem and find some way to get us out of there," former US diplomat Jim Jatras told RT.

Russian Foreign Minister Sergey Lavrov called the Trump administration's new strategy "a dead-end approach," saying it was unlikely to succeed because it relied on the use of force.
Lavrov also noted that the UN Security Council, with the approval of Afghanistan's government, ruled to allow the Taliban to enter peace talks under conditions that include severing terrorist links, bringing armed resistance to an end, and respecting Afghanistan's constitution.
Trump defended his policy by saying that, after an "effective military effort, perhaps it will be possible to have a political settlement that includes elements of the Taliban in Afghanistan."
Following Trump's statement, US Secretary of State Rex Tillerson said that Washington stands ready to "support peace talks between the Afghan government and the Taliban without preconditions."
Responding to the US president's strategy announcement, the Taliban vowed to "continue jihad… so long as there is even one American soldier in our country."
On Wednesday, a suicide bombing rocked the entrance to the US Bagram Air Base in Afghanistan, causing a "small number of casualties," the US military said.
The Taliban claimed responsibility for the attacks and said it was intended as reprisal for leaflets dropped by US aircraft earlier, which showed a large lion chasing a small, white dog with the Taliban flag on it, and calling on local Muslims to help US-led coalition forces find and kill Taliban supporters.
Hours before the bombing, US Major-General James Linder apologized for spreading the images of a dog, which is considered an unclean animal in Islam.
Last week, the Taliban claimed responsibility for an attack which left five people dead near the US embassy in Kabul.
Nearly 2,400 American soldiers have died in the war, which began as a response to Afghanistan's harboring of Al-Qaeda after the 9/11 terrorist attacks in 2001 and then morphed into a fight against the local Taliban to prevent them from regaining power.
Afghan civilians have been hit the hardest – some 1,662 were killed in the first half of 2017 alone, according to a mid-year report by UN Assistance Mission in Afghanistan (UNAMA).
Twenty-eight civilians were killed in airstrikes in Afghanistan last week, according to UNAMA. The latest airstrike killed 13 people, all women and children.
Deaths of Afghan security forces in the early months of 2017 were "shockingly high," Special Inspector General for Afghanistan Reconstruction (SIGAR) reported in April, saying 807 were killed.
In 2010, former President Barack Obama brought the number of US troops in Afghanistan to 100,000, and then reduced it down to around 10,000. By the time Trump took office, the Taliban controlled more territory than they did at any time since 2001, and Islamic State terrorist group (formerly known as ISIL/ISIS) already had a foothold in eastern Afghanistan.
In August, the US-backed government in Kabul controlled about 60 percent of the country – down from 65 percent the same time last year, according to the US military.
Throughout the summer, the Taliban continued to seize ground, including a key area in Afghanistan's northern Sari Pul province, as well as the district of Jani Khel in Paktia province, south of Kabul. The fall of Jani Khel marked their third victory in just four days.
The US is estimated to have spent over $700 billion on military assistance, reconstruction and economic aid to Afghanistan in the past 17 years.
The $8.5 billion the US spent on counter-narcotics efforts "failed to prevent Afghan opium production from setting new records," according to SIGAR.
Estimated opium production in Afghanistan has increased nearly 25 times since 2001, reaching 4,800 tons last year, the UN said.
You can share this story on social media: