28 women & children killed in Afghanistan airstrikes this week – UN
Published time: 1 Sep, 2017 16:38
Edited time: 2 Sep, 2017 12:44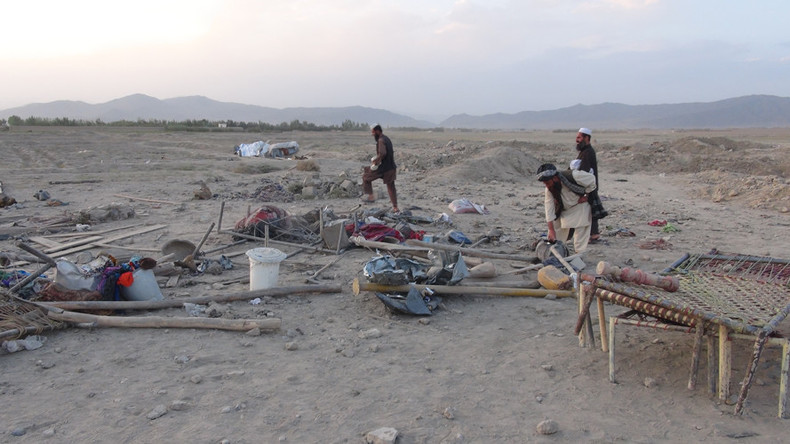 Twenty-eight civilians have been killed in airstrikes in Afghanistan this week, with the latest strike killing 13 people, according to the United Nations Mission in Afghanistan (UNAMA). All of the victims were women and children.
The most recent airstrikes took place in the Pul-e-Alam district of eastern Logar province on Wednesday, killing 13 civilians and injuring 12 others, according to the UNAMA's preliminary findings.
The strikes reportedly targeted a civilian compound being used by insurgents to attack aircraft.
It has been alleged, though not confirmed, that the casualties were a result of US-led airstrikes.
Two senior Taliban leaders were also reportedly killed, local government spokesman Salim Saleh told Afghan news outlet Pajhwok.
"The militants were hiding with some comrades in a house in Dashti Baree area, which came under the airstrike," Saleh said.
The US military says an official investigation is underway into the Wednesday strikes.
"US Forces-Afghanistan is aware of an incident in the Pul-e 'Alam District in Logar Province this morning with potential civilian casualties," the military said in a statement. "An official investigation has been launched."
It added that the US takes "all allegations of civilian casualties seriously and is working with our Afghan partners to determine the facts surrounding this incident."
It comes just two days after separate airstrikes reportedly targeted Taliban insurgents in the Shindand district. That attack left 15 civilians dead and four others injured after munitions hit at least two homes, according to the UNAMA. It was previously reported that 13 civilians had died.
At least 20 Taliban members were killed or wounded in the Monday attack, Jilani Farhad, a spokesman for the Herat governor's office, told RT's Ruptly agency.
All of the civilian victims in both attacks were women and children, according to the UNAMA.
"I am deeply saddened to hear that women and children have once again suffered so terribly from the conflict," Tadamichi Yamamoto, the UN secretary-general's special representative for Afghanistan and head of UNAMA, said in a statement. "This is unacceptable. All parties must live up to their obligations to take all feasible measures to protect civilians."
The UNAMA said it will continue to work to establish the facts around the "harm caused to civilians from these attacks, including looking into allegations that Anti-Government Elements deliberately used civilians or civilian locations as a shield."
It has urged authorities to ensure "independent, impartial, and prompt investigations of both incidents" and for "appropriate steps to be taken to ensure accountability, compensation for victims, and the prevention of such incidents in the future."
There has been a 43 percent increase in civilian casualties from US and Afghan aerial operations during the first six months of 2017 compared to the same period in 2016, according to the UNAMA, which has documented 95 civilian deaths and 137 injuries. There has been a particular rise in deaths among women and children.
The UN statement on civilian casualties comes as the Pentagon has recently announced it awarded a contract worth $727 million in support of the Afghan Air Force and the Special Mission Wing unit. The deal is part of US President Donald Trump's U-turn on Afghanistan in which he abandoned his previous position of disengagement.
Trump has vowed to "expand authority for American armed forces to target the terrorist and criminal networks that sow violence and chaos throughout Afghanistan" as part of a new push against the Taliban.
More than 173,000 civilians in Afghanistan and Pakistan have been killed since the beginning of the US invasion of Afghanistan in 2001, according to the Costs of War Project run by Brown University's Watson Institute.