Trump may cite UN resolution to decertify Iran nuclear deal – US envoy to UN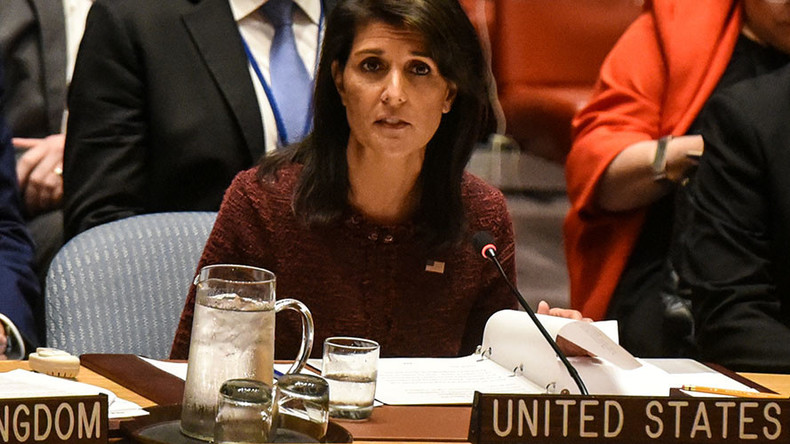 As President Donald Trump's deadline for certification of the Iran nuclear deal approaches, US Ambassador to the United Nations Nikki Haley says the president is looking to a post-deal UN resolution to justify his decision.
Haley told reporters Thursday that Trump would take into consideration a UN resolution that was originally intended to support the Iran nuclear deal, when he decides whether to recertify the agreement under US law.
UN Resolution 2231, written by the US delegation in 2015, sets forth the UN Security Council's plan of action to monitor Iran's commitments to the nuclear deal, legally known as the Joint Comprehensive Plan of Action (JCPOA).
The resolution also condemns Iran for ballistic missile-testing, weapons smuggling and support for terrorism, among other acts, but at the same time, lays out a plan for a complete lifting of sanctions. Iran, however, is not considered to be legally bound by the resolution, and has been compliant under the JCPOA, which focuses strictly on uranium enrichment.
Haley wasted no time condemning Iran when asked if there were ways to keep the US in the nuclear deal while still addressing its concerns over Iran's impact on "peace and stability in the region." The ambassador replied by accusing Iran of failing to stop ballistic missile testing, smuggling arms and supporting terrorism.
She said all of these issues, which were included in the UN resolution, have been violated by the country and will be taken into consideration when a decision on the matter is made.
"Just because we did this nuclear deal, it doesn't give them a pass on all the other things that they're doing wrong," she said.
"The Iran deal and US law are two separate things," Haley added.
READ MORE: Deal or no deal? Trump said to have decided on Iran nuclear pact
Under US law through a Congress-created mechanism, the president is required to re-assess the JCPOA every 90 days, in context with the UN resolution and other factors, in order to decide whether the nuclear deal is in the best interests of the US.
October 15 is the president's next deadline. If Trump decides to decertify the deal, it will then go on to the US Congress, which will make the decision on how the US will move forward with the agreement.
On Wednesday, Secretary of State Rex Tillerson also hinted at Trump's upcoming decision, saying Iran is only in "technical compliance" with the JCPOA.
Tillerson went on to say the president has been "quite clear and articulate" about his concerns relating to the JCPOA.
You can share this story on social media: