Deal or no deal? Trump said to have decided on Iran nuclear pact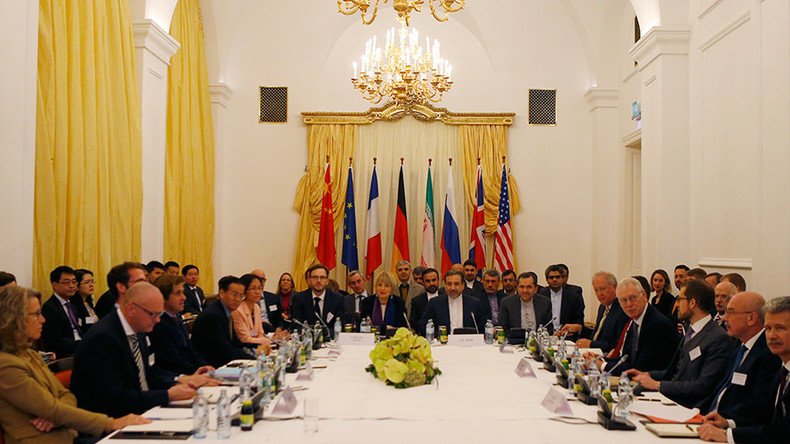 US President Donald Trump has made a decision about the 2015 nuclear agreement with Iran, but said he will not make it public just yet. US Ambassador to the UN Nikki Haley said that Trump's harsh UN speech does not mean Washington plans to exit the deal.
Trump's words were "not a clear signal that he wants to withdraw, but it is a clear signal he is not happy with the deal, and that the United States is not safer because of it," Ambassador Nikki Haley told CBS on Wednesday.
Trump has made a decision on whether to end the Iran nuclear deal, but declined to make the decision public just yet, Reuters reported.
In his maiden speech to the United Nations on Tuesday Donald Trump called the agreement "one of the worst and most one-sided transactions" in US history.
Trump called Iran a "depleted rogue state whose chief exports are violence, bloodshed, and chaos," saying that it funds "terrorists that kill innocent Muslims and attack their peaceful Arab and Israeli neighbors."
Iranian President Hassan Rouhani said that abandoning the nuclear treaty would come at a "high cost" to Washington.
"Instead of focusing on us leaving the agreement, Rouhani needs to start following the rules," she added. "He's got to stop smuggling arms, he's got to stop all of the meddling in the Middle East and their support of terrorism, and you've got to see them stop with the ballistic missile testing. So he is not keeping his end of the deal."
The American diplomat added that the White House has "grounds" not to re-certify Iran's compliance with the nuclear agreement, something it did in April and July and would next have to do by October
Officially known as the Joint Comprehensive Plan of Action (JCPOA) the July 2015 agreement between Tehran and six leading international powers stipulates only that the Islamic Republic limit its nuclear program for fifteen years, in exchange for a relaxation of pre-existing sanctions.
But earlier this year, the US moved the goalposts when Congress introduced legislation that would require Iran to limit other activities. These activities, such as missile testing, are not covered by the agreement, but the US has made this a condition of its continued involvement.
Tehran has repeatedly said that the existing terms of the JCPOA are non-negotiable.
'Renouncing deal would be grave error'
Other signatories to the landmark agreement that looked to end a decades-long standoff between Iran and the West have not supported Trump's harsh stance.
"Renouncing [the JCPOA] would be a grave error, not respecting it would be irresponsible, because it is a good accord that is essential to peace at a time where the risk of an infernal conflagration cannot be excluded," said French President Emmanuel Macron in his own address to the United Nations General Assembly.
Russian Foreign Minister Sergey Lavrov criticized the "uncompromising position" of the US, and said that Russia would "follow the recommendations of [international nuclear watchdog] IAEA, which has said numerous times that Iran is in compliance with the terms of the JCPOA."
In a German government briefing in Berlin on Wednesday, a German official said that the country was "not interested" in reviewing the terms of the agreement, which it regards as "an effective instrument in stopping a nuclear arms race."
"The deal is too big a success to place at risk," said deputy government spokesperson Georg Streiter.
EU foreign policy chief Federica Mogherini reinforced the bloc's view on the deal.
"Our role as the European Union, and my personal role, is to make sure that the deal continues to be fully implemented by all sides. And you can count on the Europeans to make sure that this happens," she said this week. "The deal doesn't belong to one country or another. The deal belongs to the international community."
You can share this story on social media: