'We can't use Tasers against guns': Fatal St. Louis police shootings hit 10-yr high amid protests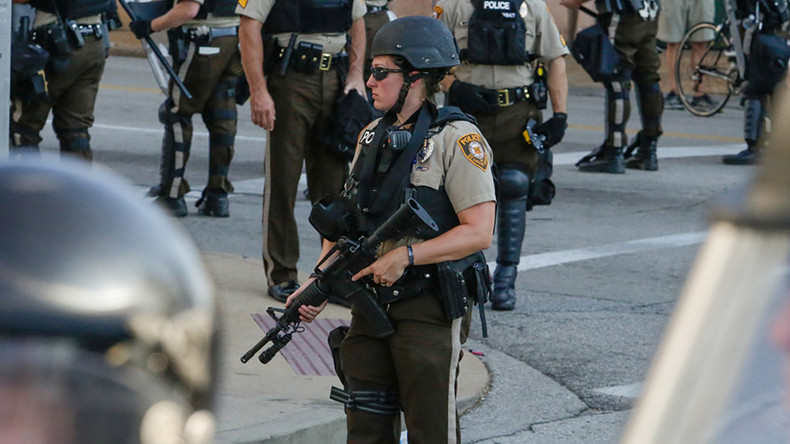 Eight people – six of them black – have been shot dead by St. Louis cops this year, already more than in any full year in the past decade. Police say a spike in crime is to blame, while protesters point to the unnecessary use of guns by law enforcement.
"There is a rise in violence. Guns are easily accessible. We have open carry laws, and folks are out there carrying their guns," Lt. Col. Rochelle Jones, who leads the city's Force Investigation Unit, told the St. Louis Post-Dispatch. "What do you do when someone pulls a gun on you? You can't pull your Taser."
Five people were killed by police shootings in 2016. In addition to the fatal shootings, seven more people were wounded this year, and an unknown number may have been shot at, but not hit. Police did not disclose the total number of shooting incidents to the media among the latest statistics.
The St. Louis Metropolitan Police Department (SLMPD) says that seven of the victims pulled a gun on a cop, and three of them fired their weapons first. The eighth person, Kenny Herring, a black woman, stabbed an officer before being gunned down.
The SLMPD says that almost all were engaged in serious illegal conduct. Davion Henderson, a 21-year-old black man, crashed an SUV he had stolen as police were tracking him with a helicopter, and then pointed a gun at a patrol that arrived on the scene. An off-duty police officer witnessed 33-year-old Chazz Brown, a black man, pull out a gun in a store. When the officer tried to stop him, Brown shot at him, and was killed by return fire.
Among the incidents is the controversial shooting of Isaiah 'Vinny' Hammett, a white man, who was killed in June after police said that he pulled an AK-47 on them, outside a house they say was filled with guns and marijuana, and rigged with surveillance cameras.
His family has staged a series of rallies in his support and says that the AK-47 was not working, and the other guns belonged to a sick grandfather the 21-year-old Hammett was looking after.
Much larger demonstrations have gripped the city due to an older case that concluded last week, in which a white officer, Jason Stockley, who has since left St. Louis, was acquitted of killing a black man, Anthony Lamar Smith, in December 2011.
Since then, almost daily protests, some numbering hundreds, have targeted well-off areas of the city, as demonstrators, some holding 'Black Lives Matter' placards, have called for justice over the death of Smith, chanting "No justice, no profits!"
Police say that over 30 officers have been injured trying to contain the protests, which they have attempted to disperse on several occasions. Demonstrators say that the protests have been peaceful, and have accused police of firing what appeared to be rubber bullets following a protest on Sunday. The SLMPD says the projectiles were pepper-spray balls, and were unleashed in response to crowd violence.
Police union business manager Jeff Roorda said protesters "have declared war on the police," after they sprayed graffiti on the police officers' union building.
Police believe in 'eye for an eye,' say protesters
Against the background of public discontent, the SLMPD says that their violence is a result of an increase in firearms violations, with aggravated assault with guns up 16 percent in 2017. In both 2015 and 2016, 188 people were killed in the city, the highest two-year total in decades.
Jones told the St. Louis Post-Dispatch that police cannot bring down the level of violence without help and better communication with the poor, mostly minority, communities where the incidents take place.
"We can't do this alone," Jones said. "We need to work with the community, not against the community."
Phillip Duvall, one of the leaders of the anti-Stockley protests, says the police are misplacing the blame.
"It's like saying, 'We've got to be more violent to protect ourselves and we're more justified in killing you because you're out there with more weapons.' That's status quo, that's not leadership. That's eye for an eye," he said when informed of the latest statistics. "The police say, 'We've got to be more cautious,' but this story tells me they're not being too cautious."