Starbucks 'hero' may be sued after stopping armed robbery (VIDEO)
Published time: 21 Sep, 2017 00:25
Edited time: 11 Apr, 2018 12:54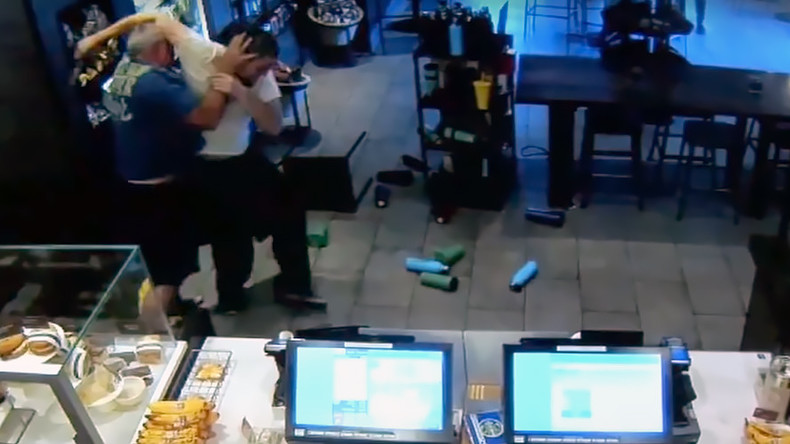 The man credited with stopping an armed robbery at a Starbucks in Fresno, California, may now face an excessive force legal challenge by the suspect.
"He has seventeen total stab wounds, lacerations and defensive wounds," Pamela Chimienti, mother of alleged thief Ryan Flores, told WSVN on Wednesday. "The guy, in my opinion, went from a Good Samaritan to a vigilante. Stabbing somebody that many times, it doesn't take that many stab wounds to get somebody to succumb to you."
The incident, which was captured on surveillance video and quickly went viral, happened in July. Flores, wearing a Transformers mask, approached the cashier, pulled out a gun, knife and bag in the Fresno-area coffee shop demanding money.
Witnessing the robbery in progress, customer Cregg Jerri, 58, grabbed a metal chair and swung it at Flores from behind. The two men wrestled, and Jerri was stabbed in the neck. Jerri wrangled the knife from Flores and stabbed him several times before the suspect ran away.
Fresno police later found him hiding in a canal.
Fresno Police Chief Jerry Dyer can't believe the alleged armed robber is planning to sue.
"To say that Craig Jerri's going to be sued for intervening in an armed robbery and being stabbed in the neck? That is ludicrous," he told WSVN.
Police told WAFF that Jerri feared for his life after being stabbed in the neck, and was well within his rights to defend himself.
Defense attorney Charles Magill told WSVN that he believes Flores will have a tough time finding representation, should he pursue the case against Jerri.
"Good luck finding an attorney that wants to represent a young robber who's going to be convicted of robbery," Magill told WSVN. "That's not going to sell well to a jury."
Flores is being held on a $155,000 bond, and is due back in court in October.