Starbucks sued over bizarre 'Unicorn Frappucino' drink (PHOTOS)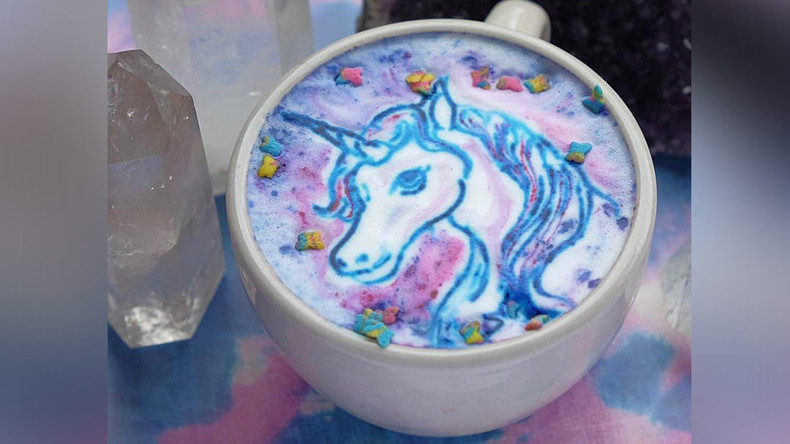 Coffee giant Starbucks is being sued over a strange, kaleidoscopic-looking drink dubbed the 'Unicorn Frappuccino' which last month sent java drinkers into an online frenzy.
Available across a limited number of Starbucks stores from April 19, the unusual brew containing turmeric, mango syrup and "sour blue powder" gained a lot of traction on social media.
@mviser the unicorn frappucino was the goal. Coffee was just a means to the end.

— David Fahrenthold (@Fahrenthold) May 5, 2017
I'm confused as to why the Unicirn frappuccino tastes like mango 🤔

— Junie B. Jones 💜 (@Yass_itsmea) April 19, 2017
For some, the purple iced coffee drink topped with swirling cream represented a crime against coffee – but that's not why Starbucks is facing a suit.
Montauk Juice Factory, owners of The End Brooklyn cafe in New York, claim they came up with the idea first and have filed a federal trademark infringement lawsuit against Starbucks.
Lawyers for the coffee shop told RT.com that the suit is being taken to "protect a local business from having its intellectual property taken by a global corporation."
"Our client Montauk Juice Factory created the Unicorn Latte, a successful product that our clients transformed into a social media sensation, developed a famous and valuable trademark, and took the appropriate steps to protect," lawyer Josh Schiller said in a statement.
"Starbucks, with its thousands of coffee shops, launched a competing product with a similar look and name, and marketed it in the same channels… severely damaging our client's mark."
A Starbucks advert for the drink appeared last month, informing customers of the frappuccino's "magical flavors".
"Here for a few days only: The flavor-changing, color-changing, totally not-made-up Unicorn Frappuccino," the promotion read.
"Magical flavors start off sweet and fruity transforming to pleasantly sour. Swirl it to reveal a color-changing spectacle of purple and pink."
A trademark application for the Unicorn Latte was filed by Montauk Juice Factory on January 20, 2017, with the coffee shop first receiving coverage about the colorful concoction in December last year.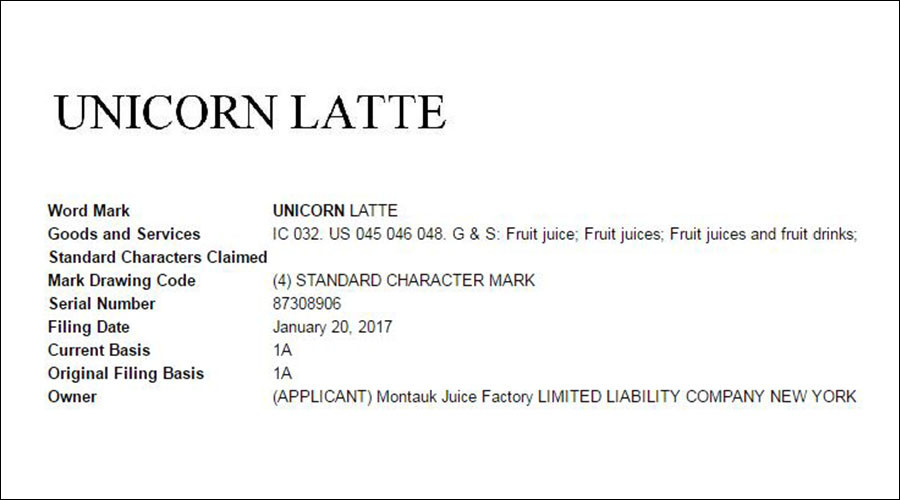 The End Brooklyn official Facebook page states their "healthy" 'Unicorn Latte' contains ginger, lemon, live algae, coconut milk, honey and turmeric.
A spokesperson for The End Brooklyn cafe described how the drink contains "blue green algae" - an ingredient they say will "decalcify" a gland in the brain.
"Many ancient cultures believe the pineal gland is the access point to your inner soul and your intuition," she said. "The gland gets calcified over time from many modern day toxins. The blue green algae is one of the many reasons the Unicorn Latte helps with extreme mental clarity."
In a statement to Reuters, Starbucks disputed the company has done anything wrong.
"The Starbucks Unicorn Frappuccino blended beverage was inspired by the fun, spirited and colorful unicorn-themed food and drinks that have been trending in social media," it said.
"i mean, you just don't know what kinds of crazy ingredients are in vaccines these days!" she says, chugging a unicorn frappucino

— ya girl (@caitlynmiller0) May 5, 2017
Every day I walk into work hoping nobody will ask about the unicorn frappucino, and every day I'm let down

— a$ap (@a_seibold) May 1, 2017