'Complete failure': US organizations unite to decry Trump's UN speech on N. Korea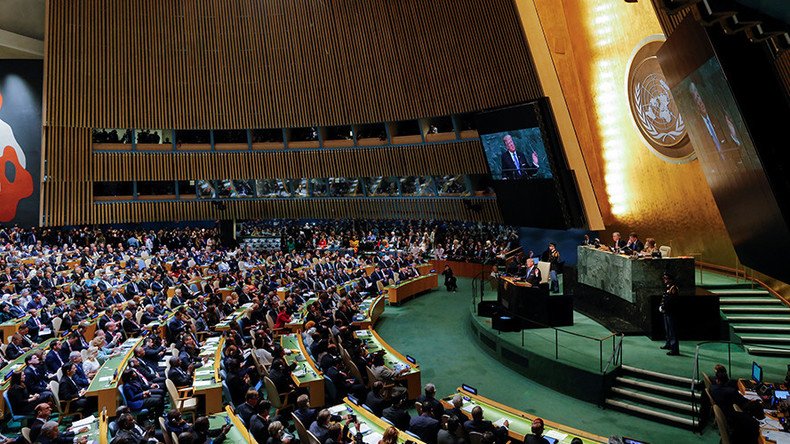 Donald Trump's speech at the UN, in which he threatened to "totally destroy" North Korea if necessary, has been slammed by progressive organizations calling it a "complete failure of American leadership" and "yet another reckless escalation."
READ MORE: N. Korea threatens US with 'horrible nuclear strike and miserable and final ruin'
The three organizations - MoveOn.org, CREDO Action, and Win Without War - blasted Trump's speech in a joint statement published on Tuesday.
"Donald Trump's first speech to the United Nations General Assembly today – and in particular, his remarks about North Korea – was nothing short of a complete failure of American leadership," the statement reads.
It adds that Trump threatened to "totally destroy North Korea" instead of "focusing on efforts to peacefully resolve the crisis surrounding its nuclear program."
The organizations said it is "time for this charade to end," calling it a "slow roll towards a catastrophic war" and stressing the need to solve the crisis diplomatically.
"Trump's UN speech represents yet another reckless escalation in the ongoing tit-for-tat between North Korea and the United States that does nothing but edge us closer to nuclear war."
The statement goes on to state that war on the Korean peninsula would "likely kill millions of Korean, Japanese and American troops stationed in the region; wreak havoc on the world economy; inflict a humanitarian crisis not seen since World War II and potentially compel the North Koreans to use their nuclear arsenal."
The organizations also accuse Trump of employing "bluster and counterproductive threats."
"Less than a year into office, Trump has managed to take what was a difficult, challenging situation and turn it into an even bigger, full-blown crisis and place our nation on the verge of a devastating and unnecessary war. Threats and bombastic tweets are not leadership, they won't keep America safe, and they need to stop."
In conclusion, the organizations state that "the choice is clear."
"Either we let Trump's incompetence and bellicosity drive us into a destructive conflict potentially more devastating than the wars in Iraq and Afghanistan combined, or we can focus our efforts on negotiation."
"We will not be deterred in our efforts to prevent another disastrous US-led war. The fate of the region and the world depends on it," the end of the statement reads.
The joint statement comes after Trump delivered a no-holds-barred speech at the UN on Tuesday, vowing to "totally destroy"North Korea if necessary.
READ MORE: Trump does not want war with N. Korea, US not giving up on diplomatic efforts – Ambassador Haley
The three organizations weren't the only ones to criticize Trump following the speech, with the California-based Jewish Voice for Peace accusing the US president of being a "threat to peace."
Meanwhile, some took to social media to accuse Trump of threatening "genocide."
Another person regarded Trump's speech as proof that the leader only cares about it being "loved by his most right-wing base," and not its reception by the rest of the world.
Some accused Trump of being a "danger to humanity."
Still others called Trump's speech a "terrifying vision of an aspiring dictator" and called on America to "wake up."
Unsurprisingly, former Democratic presidential candidate and perhaps Donald Trump's biggest foe, Hillary Clinton, also criticized the speech.
"I thought it was very dark, dangerous, not the kind of message that the leader of the greatest nation in the world should be delivering," Clinton told US television host Stephen Colbert.
"When you face dangerous situations like what is happening in North Korea, to make it clear, your first approach should always be diplomatic," Clinton added.
Meanwhile, a Trump parody account on Twitter took a lighter note, addressing the speech's fictional edits.
"Had to edit parts out of UN speech where I called Canadian PM a doodiehead, said Kim Jong Un has cooties & threatened to nuke the Vatican!" the tweet states.
Despite the criticism aimed at Trump's speech, the US ambassador to the UN, Nikki Haley, said earlier Wednesday that Trump "doesn't want war."
READ MORE: Trump does not want war with N. Korea – Ambassador Haley
"We have tried to do this through dialogue, we've tried to do this through sanctions, we've tried every diplomatic measure that we possibly can. We're not giving up on that..." she told 'CBS This Morning.'
You can share this story on social media: